Ivanka Trump Jewelry Pivots From $10,000-Plus Items to Pieces Under $100
Ivanka Trump launched her brand with a high-end jewelry line. It's now being discontinued in favor of more accessible fashion jewelry.
---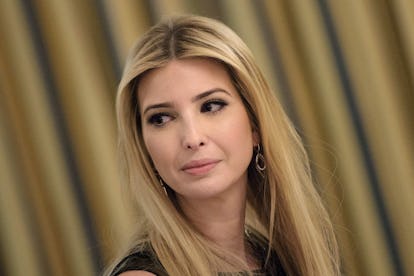 BRENDAN SMIALOWSKI
Sales of the Ivanka Trump fashion and accessories brand have fluctuated wildly over the course of her father Donald J. Trump's campaign and presidency. It was just last month that the brand saw itself dropped from several retailers after fledgling sales and threats and boycotts, but thanks in large part to the attention afforded to it as a result of the subsequent controversy and her father's devoted political followers, the brand has seen a resurgence in sales as of late.
To take advantage of the recent interest, the brand that bears Ivanka's name will realign its business model. The most notable change: the Ivanka Trump fine jewelry collection, a high-end line which featured pieces with price tags as high as $25,000, will be dropped. In its place, the brand will instead focus on fashion jewelry with many pieces priced less than $100.
The news was first reported by Vanity Fair. Brand president Abigail Klem told the publication in a statement that the high-end line has been nixed "as part of our company's commitment to offering solution-oriented products at accessible price points."
"We will be focusing our efforts on existing and new categories that are most relevant to our loyal customers—including fashion jewelry, which successfully launched last fall with price points that are aligned with the rest of our collection," she added.
The Ivanka Trump brand launched in 2007 with the fine jewelry line as its first offering before diversifying with contemporary-priced clothing, accessories and shoes. However, sales started dropping in the lead up the election. This was in part thanks to an online boycott of any company that did business with the Trump family. Though, in larger part it may have been simply that many women simply didn't want to include any political flash points in their wardrobe, especially when there are so many other brands offering products similar in style and price point as the Ivanka Trump brand.
Though, several stores dropped the brand, Nordstrom in particular bore the brunt of the controversy. President Donald Trump angrily Tweeted about the department store, calling the situation "Terrible!" White House Counsel Kellyanne Conway in turn told Trump followers to go out and buy the brand during a national television appearance, which may have broken ethics laws, but Conway was merely slapped on the wrist as a result.
It turns out though that many Trump voters do want to include political statements in their wardrobe and have heeded Conway's call and rallied around the brand (for anecdotal evidence: this viral video of Arizona women telling Nordstrom employees that they'll be taking their business to Dillard's instead). Ivanka Trump perfume (the real thing, not the Saturday Night Live version) soon rocketed up to the No. 1 spot on Amazon's list of best selling perfumes (a 1.7 ounce bottle sells for a relatively affordable $49.60 on the site), and other online retailers, including Lyst, claims they saw huge spikes in sales for the brand.
Though, the brand's new devoted costumers are of a different sort than Ivanka Trump originally sought when she started the brand. Thus, a shift in price points is to be expected. The realignment might even have benefits for the Trump family politically by further cementing the Trumps, in the eyes of President Trump's voters anyway, as a family of blue-collar billionaires of the people, and, not, say, elitists who sell $10,000 necklaces.
At the end of the day it really comes down to business. It should be noted that Ivanka Trump herself stepped down form a leadership role with the brand ahead of her father taking office, but she still remains its owner. Klem, a longtime Trump employee who, incidentally, is a registered Democrat, has since taking over the duties of actually running the brand. No doubt it's a difficult job, but realigning the brand so it's more accessible to more of Trump's voters only makes sense.
Upgrade Your Jewelry Box With These 10 Elizabeth Taylor-Worthy Pieces
"Women's Rights Are Human Rights": 62 Fashion Insiders Speak Out in a Powerful Video for International Women's Day: