J Balvin and Bad Bunny Collaborator Jhay Cortez Is on His Own Hot Streak
The singer and songwriter from Puerto Rico, who has collaborated on tracks with J Balvin and Bad Bunny, also discusses his upcoming album, "Timelezz."
---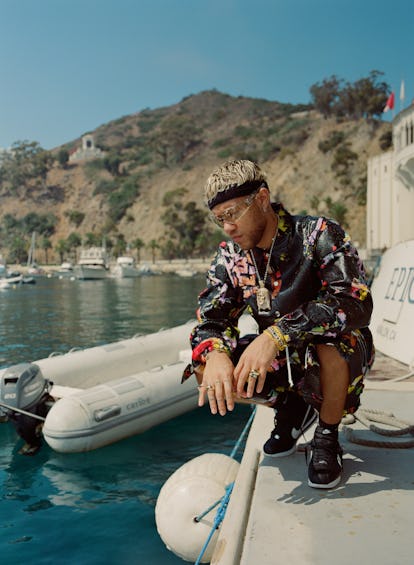 Selfie for W magazine courtesy of Jhay Cortez.
With every step Jhay Cortez takes in his rising career, things just keep getting bigger. The Puerto Rican singer-songwriter's success has reached critical mass thanks to his collaboration "Dákiti" with fellow Boricua artist Bad Bunny sitting at No. 1 for a second week on Billboard's Global 200 chart. Domestically, it's the second fully Spanish-language song to debut within the top 10 of the all-genre Hot 100 chart. Cortez's hot streak is on fire.
"For me, it's a dream come true to have the number one song in the world," the 27-year-old says over the phone. "['Dákiti'] is just one of those songs where you feel the melody. You feel the song even if you don't understand the lyrics. That was my whole goal when I started making the song: I wanted a global song that could connect with everybody, no matter your race or the language."
The futuristic club anthem is emblematic of reggaetón music's resurgence in popularity around the world. The genre rooted in Puerto Rico sees Cortez and Bad Bunny proudly planting their island's flag atop the charts with the song named after San Juan's Dákiti beach. For Cortez to reach this peak in his career is especially rewarding as he's spent the past decade shifting gears from songwriter to artist.
Cortez is a child of reggaetón, having grown up in San Juan when local pioneers like Daddy Yankee, Tego Caulderón, and Don Omar, whom he cites as an artist that put him on to music, led the genre's initial breakthrough in the early 2000s. With the help of his dad, who was a musician, Cortez started producing music at 14 years old. "My vision was to always be an artist, but I had to look to [songwriting] as another way to get to that point," he says. "I had to make a living." One of the first big hits he helped pen in 2017 was Puerto Rican superstar Ozuna's "Criminal" with Natti Natasha, which has over 2.1 billion views on YouTube. "For me, that song was a confirmation that I was doing the right thing," Cortez says.
Having established himself as a hit songwriter in Latin music, Cortez set his sights even higher. He was one of the writers on Cardi B's 2018 global smash "I Like It" featuring Bad Bunny and Colombian rapper J Balvin. "That was my first crossover song," he says. "It really gave me the hope that I needed to keep doing big, global records." Reaching the cap on songwriting, Cortez decided to pivot to his own artistic endeavors. However, he knew there were challenges to overcome with that maneuver. "People have the stigma that songwriters can't be artists," he says.
Cortez released his breakthrough smash "No Me Conoce," or "She Doesn't Know Me," the following year. The irony of the song's title is how he would become most known for it, especially after his frequent collaborators J Balvin and Bad Bunny jumped on the remix. The ambient banger was certified 20 times platinum in the U.S. "We're just trying to live our dreams and want people to love our music as much as we do," he says of both artists. "I think that's what's linked us, our same interests." With his own music, Cortez is big on manifesting his dreams through his words. He named his debut album Famouz so for once, his own songs would be the "famous" ones. (Mission accomplished with the double-platinum certification.)
When the COVID-19 pandemic hit at the start of the year, Cortez quarantined in San Juan, where he had time to reflect on his career. "During that time I was focused on where I wanted my vision and my color musically to go," he says. Both "Dákiti" and his new single "Kobe in LA" were born in that period. The former is seen as a refreshing twist on reggaetón while the latter takes Latin trap to new places. On the sprawling, nearly seven-minute track, Cortez pays tribute to the late Lakers legend Kobe Bryant. The music video is just as much of a trip, as the singer sits triumphantly on top of a basketball hoop on fire. "[Kobe] left behind a wonderful career and that Mamba mentality," Cortez says. "You're not just hearing a song. You're having an experience. I think the Latin market needs more of that. People are a bit in a comfort zone."The reggaetón visionary hopes to leave his mark with his next album, which he's currently working on, Timelezz. Cortez is once again manifesting his dreams with his words. "It is a timeless album," he says. "With my music, I just want to put that energy outside that I have. That ambition. Everybody should live by a drive. Do whatever you love and have faith in it. I just always want to raise the bar and do it for the culture."