The Denim Master
Mary Bruno has 20 years of experience designing jeans–and it shows.
---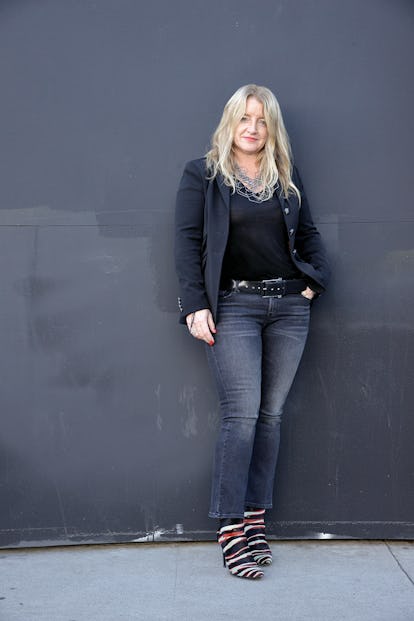 As the head of design at J Brand, Mary Bruno has transformed the denim-focused brand into a fashion insider favorite. It's no surprise that she's found quick success, given her resume includes both Levi's and Ralph Lauren.
Why do you love working with denim? I fell in love with denim fabrics and the creation of washes when I worked at Levi Strauss about 20 years ago. Before coming to J Brand, I was Head of Denim Design at Ralph Lauren for 15 years. I loved that you could mold denim and change it into whatever you wanted it to be. I loved combining all the elements of fit, fabric, and wash to create something new. I still love to design shirts, dresses, sweaters and leather, but my inspiration for any season is always rooted in denim.
What do you try to accomplish with every collection? My goal each season is always to create a new mood for denim. A seasonal story that highlights modern fashion forward silhouettes, using new updated fabrics – taking inspiration from what we see on the streets, on the runways, and what we gather doing our reference shopping around the world.
Who is your denim style icon? It's all about Emmanuelle Alt. For me, she is the modern day denim icon. She is a huge source of inspiration for me at J Brand–the perfect mix of effortless chic and casual elegance. And the fit is always amazing on her! Finding the perfect fit and length is absolutely key. She always wears jeans with the right shoe… she just gets it!
What's the secret to perfect jeans? The fabric is so important. You need the perfect combination of high quality denim that uses the right formula of yarns, dyed with rich dark indigo, with the perfect amount of stretch. The secret to success is how it molds, shapes and wears over your body as you wear it. It needs to give in at all the right places and hold its shape in others. The fit is critical too but if you have the wrong fabric to start you really won't get anywhere.
What is the best pair of jeans you've ever owned? I have been thinking about the right answer to this for two weeks now and I find it so hard to answer. I am fickle and fall in love with new jeans all the time. No one pair has sustained my attention forever. For some time now I have been in love with black denim. I have a high-rise skinny black jean, mid rise black destructed jean, stretch leather cropped jean, cropped boot cuts in worn black.
What denim trend would you resurrect from the grave? It's really never been in the grave, but I always love a Levi's bootcut 517 Orange Tab from the '80s that's just a little short.
What styles are you most excited about right now? The Selena Cropped Boot – we introduced it this past Fall 15 in the Anthracite (grey) wash. It's a mid-rise cropped bootleg that shows just the right amount of ankle. It feels so modern, yet has a vintage look too. It's a great transitional fit from fall to winter to spring, and looks great with heels, sandals, sneakers or boots. We will keep it going for Spring 2016 with updated, lighter washes.
What cities most inspires your designs? Los Angeles is the epicenter for denim creation right now. All the best brands make jeans in L.A. However, I have to admit that the women of New York just know how to do it when it comes to wearing denim. Every time I visit I find that the women have such confidence when it comes to trying new fits. They jump on denim trends so quickly. They style them so well, perfect casual chic every time.
Mary Bruno. Photo courtesy of the brand.