J.Crew Has Filed for Bankruptcy
Its parent company, which also owns Madewell, is a staggering $1.65 billion in debt.
---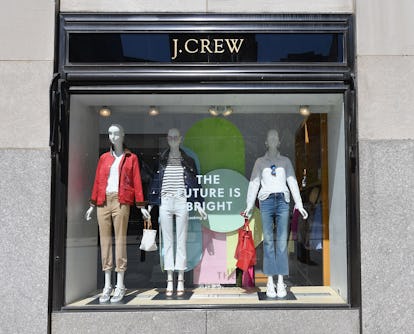 Angela Weiss/AFP/Getty Images
Between store closures and the tanking economy, it was only a matter of time before retailers began declaring bankruptcy. On Monday, the parent company of J.Crew and Madewell became the first to do so during the pandemic, claiming a staggering $1.65 billion in debt. J.Crew Group Inc., which also owns Madewell, currently has nearly 500 stores. (The window display J.Crew's shuttered Rockefeller Plaza location currently reads "the future is bright.")
Less than a decade ago, the 73-year-old company was thriving. Michelle Obama was repeatedly photographed wearing J.Crew, and its beloved CEO and president, Jenna Lyons, was becoming a celebrity—or at the very a least street-style star—in her own right. But in 2017—the year Obama left the White House—Lyons left the company. So did Mickey Drexler, the CEO credited with turning J. Crew into a retail powerhouse. (He stayed on as a chairman until 2019.) Even with Meghan Markle filling the role of its biggest celebrity fan, things have steadily gone downhill ever since.
Still, the company's executives haven't given up entirely. "We will continue to provide our customers with the exceptional merchandise and service they expect from us, and we will continue all day-to-day operations, albeit under these extraordinary COVID-19-related circumstances," the company's CEO, Jan Singer, said in a statement. J.Crew, he assured, won't become a relic of the past: "As we look to reopen our stores as quickly and safely as possible," Singer continued, "this comprehensive financial restructuring should enable our business and brands to thrive for years to come." Meanwhile, Madewell will continue day-to-day operations, under the helm of Libby Wadle.
There's reason for hope: J.Crew's lenders have agreed to convert its debt into equity, and at least five investment companies have committed to financing an additional $400 million. J.Crew's sales also increased to $2.5 billion in its last year of operations—a small but significant increase of two percent.
Related: I Was a J. Crew Non-Model Model
J. Crew's Jenna Lyons Was the Rare Successful Designer-Street Style Star
Jenna Lyons at Solange Knowles's wedding in New Orleans, Louisiana, November 2014.

Josh Brasted/Getty Images
Jenna Lyons and Courtney Crangi at the Altuzarra Fall 2016 show at New York Fashion Week in New York, New York, February 2016.

Gilbert Carrasquillo/Getty Images
Jenna Lyons at Altuzarra Spring 2016 during New York Fashion Week in New York, New York, September 2015.

Daniel Zuchnik/Getty Images
Jenna Lyons at Altuzarra Spring 2017 during New York Fashion Week in New York, New York, September 2016.

Daniel Zuchnik/Getty Images
Jenna Lyons at Prabal Gurung Spring 2015 during New York Fashion Week in New York, New York, September 2014.

Daniel Zuchnik/Getty Images
Jenna Lyons in New York, New York, April 2015.

SBN/Star Max/Getty Images
Jenna Lyons at Rag & Bone Spring 2015 during New York Fashion Week in New York, New York, September 2014.

Daniel Zuchnik/Getty Images
Jenna Lyons at Tim Coppens Fall 2015 during New York Fashion Week in New York, New York, February 2015.

Daniel Zuchnik/Getty Images
Jenna Lyons and Courtney Crangi at Altuzarra Fall 2017 during New York Fashion Week in New York, New York, February 2017.

Gilbert Carrasquillo/Getty Images
Jenna Lyons at Altuzarra Fall 2014 during New York Fashion Week in New York, New York, February 2014.

Daniel Zuchnik/Getty Images