Jack Kilmer, Val Kilmer's Son, Has Six Movies in the Works
He has three films on the way.
---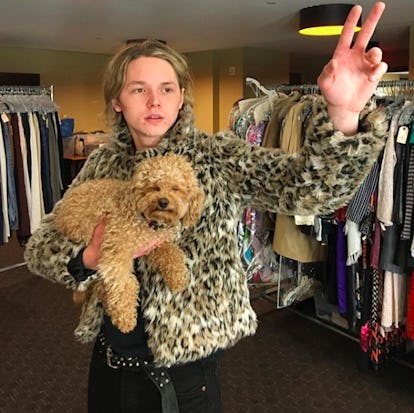 instagram.com/jackkilmerw
Jack Kilmer may have been born into the film industry — with parents Val and Joanne Whalley — but he's built up an impressive résumé that genes alone could not yield. Over the past handful of years, the 22-year-old has shown a gift for choosing projects. Since making his film debut in 2013's lauded Palo Alto, Kilmer has taken on a slew of promising indie films. This year alone he's acted in Woodshock, the Rodarte sisters' feature-length debut starring Kirsten Dunst, as well as upcoming ones like Lords of Chaos, a dark look at the satanic metal underground co-starring Rory Culkin, Sky Ferreira, and Emory Cohen, which has been touted as a "Trainspotting for the millennial generation," according to Metal Injection. It's being directed by frequent Madonna and Lady Gaga music video collaborator Jonas Åkerlund. Kilmer also shot Wobble Palace, Huntsville with Sophie Turner and Dylan McDermott, and, perhaps most notably, The Pretenders, James Franco's directorial effort that puts the spotlight on Kilmer as well as the rest of his class of up and coming actors including Shameik Moore and Jane Levy that promises to be a college-age coming of age story centered around a love triangle and written by The Fault in Our Stars' Josh Boone.
Kilmer, however in his personal life, decided not to immediately attend college in lieu of seizing on the momentum he gained with Palo Alto — and it's a strategy that seems to be working. Of course he's had help. Kilmer has been vocal about how growing up in a house of movie stars helped to shape him. "We can relate on a whole other level," he told Interview of his relationship with his dad Val since he made the leap into acting. "It was exciting to read a script with him."
If he wasn't working on his acting career though Kilmer would likely be pursuing music, which he was doing prior to Palo Alto. "I've always had other creative outlets," he told Interview. "But I found by doing the movie that none of those are mutually exclusive. I noticed that so many things I was into—music, art—had to do with characters."
"Director / musician / model," he wrote in the caption of an Instagram photo where he clutched an adorable dog, perhaps on the set of a shoot for YSL, whose spring 2017 campaign he starred in.
Hey, when you can do all, why choose one? Considering how many projects Kilmer has lined up for 2018, his face is about to become even more ubiquitous.
Related: Meet the Celebrity Scions Class of 2017, From Paris Jackson to Hailie Scott