Jack Schlossberg, Caroline Kennedy's Son, Was His Mom's Date to the Met Gala on Monday
Twenty-four-year-old John "Jack" Bouvier Kennedy Schlossberg is the youngest child of Caroline Kennedy and the only grandson of John F. Kennedy.
---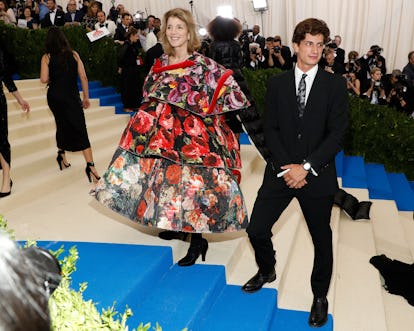 Taylor Hill/Getty Images
At the Metropolitan Museum of Art Costume Institute Gala on Monday, few were bold enough to adhere to this year's theme, "Rei Kawakubo / Comme des Garçons." Yet among the handful of fashion vanguards and loyalists, including Rihanna, Tracee Ellis Ross, and Michèle Lamy, was Caroline Kennedy—the former U.S. ambassador to Japan and this year's honorary chair.
Kennedy took the red carpet in a tiered, geometric floral look from the Comme des Garçons Fall 2016 collection, the same collection Rihanna pulled from. And her look was so on-point, that it was easy to miss the dapper man on her arm that night: Her 24-year-old son, John "Jack" Bouvier Kennedy Schlossberg, who managed to still turn heads in his own way.
Jack Schlossberg is the youngest child of Kennedy and Edwin Schlossberg, the American designer, author, and artist. His oldest sister, Rose Kennedy Schlossberg, is a comedic actress, and Tatiana Celia Kennedy, 26, is an aspiring journalist. Schlossberg himself is the only grandson of John F. Kennedy, the 35th U.S. President, and graduated from Yale University in 2015 with a degree in history with a focus on Japanese history.
Seeing that his mother served as the United States Ambassador to Japan from 2013 to 2017, Schlossberg's interest in Japanese culture is fitting, and after graduating he worked at the Japanese e-commerce company Rakuten, Inc in Tokyo. However, now he's focused on following in his family's footsteps by pursuing a career in politics.
In January 2016, Schlossberg wrote an essay for Politico magazine titled, "Ted Cruz Is No Jack Kennedy," which was a timely response to Cruz claiming that the late Kennedy would have been a Republican. He wrote definitively:
"Were my grandfather alive today, he'd be excited about how far we have come as a nation since 1963, he would feel a sense of urgency about the challenges that lie ahead and he most certainly would not be a Republican."
Judging by his charisma on the red carpet, way with words, and overall enthusiasm for American politics—at home and abroad—we can only expect good things from this Kennedy in the future.
Much like Hillary Clinton's nephew Tyler Clinton caught the attention of discerning viewers at the Democratic National Convention, Schlossberg's appearance at the Met Gala was his most striking public turn yet.
With the kind of bearing that recalls his late uncle John F. Kennedy Jr.'s good looks and familiarity in a fashion crowd, Schlossberg looked entirely at ease at CDG's after party at the National Academy Museum on Monday night, even going as far as to pose with pictures with another well-known scion, Anna Cleveland.
A Guide to the Very Large, Very Beautiful, and Very Connected Kennedy Family
President John Kennedy and his wife Jackie and their children John Jr. and Caroline in Palm Beach, Florida in 1963. Ms. Kennedy lost two other children early in life, Arabella and Patrick.

Getty
Jackie Onassis and Caroline Kennedy attend Courtney Kennedy's wedding to Jeff Ruhe at Holy Trinity Church in Georgetown, Washington D.C., in 1980.

Getty
Caroline Kennedy married her husband, the designer, author, and artist Edwin Schlossberg in Hyannis Port, Massachusetts in 1986. They had three children together, Rose, Tatiana, and Jack.

Getty
Caroline Kennedy attends "Rei Kawakubo/Comme des Garcons: Art Of The In-Between" Costume Institute Gala at the Metropolitan Museum of Art with her son, Jack Schlossberg in May 2017. He bears a resemblance to her late brother, John F. Kennedy Jr.

Getty
John F. Kennedy Jr., his sister Caroline Kennedy, and their mother, Jacqueline Kennedy sit together at an event in the late 1970s.

Getty
John Kennedy Jr. enjoying a hot Labor Day Weekend in Hyannis Beach, Massachusetts, where the Kennedy clan often spent summers.

Getty
John F. Kennedy Jr. and his wife, Carolyn Bessette Kennedy at an event in 1998. The couple wed two years earlier in 1996.

Getty
Even as an adult, John F. Kennedy Jr. loved to spend summers in Hyannis Port. Tragically, in 1999 he and his wife died in a plane crash on the way to the wedding of his cousin, Rory Kennedy in Hyannis Port.

Getty
John F. Kennedy, Jr. and his sister Caroline are cousins with Maria Shriver, whose parents were Eunice Kennedy and Robert Shriver.

Getty
Bobby Shriver, Christopher Shriver, Eunice Shriver, Anthony Shriver, Maria Shriver, Arnold Schwarzenegger, and Sargent Shriver pose for a family photo.

Getty
Patrick Schwarzenegger, Christina Schwarzenegger, Maria Shriver, Katherine Schwarzenegger and Christopher Schwarzenegger pose for a family photo. Patrick dated Miley Cyrus and Christina and Katherine are aspiring models.

Getty
John Jr. and Caroline Kennedy's other cousins include Sydney and Chris Lawford, whose parents were Patricia Kennedy and Peter Lawford.

Getty
Here, Chris Lawford parties with Bianca Jagger at Studio 54 in 1970. Lawford battled with drug abuse problems as a young adult, but the death of his cousin David Kennedy to an overdose forced him to seek help. Today, he's a philanthropist.

Getty
William Kennedy Smith, the son of Jean Ann Kennedy and Stephen Smith, went to prep school in Connecticut with Brooke Shields.

Getty
Edward "Ted" Kennedy, the brother of John F. Kennedy, had three children with his first wife, Virginia Joan Bennett: Kara, Edward Jr., and Patrick, all of whom went into politics and public service.

Getty
Joseph P. Kennedy II, the son of Bobby Kennedy, served as a member of the U.S. House of Representatives from the 8th congressional district of Massachusetts from 1987 to 1999.

CQ Archive/Getty Images
Joseph P. Kennedy's son, Joseph P. Kennedy III has been serving as the U.S. Representative for Massachusetts's 4th congressional district since 2013.

Alex Wong/Getty Images
Michaela Kennedy Cuomo and Mariah Kennedy Cuomo are the daughters of New York Governor Andrew Cuomo and his ex-wife, Kerry Kennedy, the third daughter of Bobby Kennedy.

Mike Pont/Getty Images
Rory Kennedy, the youngest child Bobby Kennedy, went on to be a successful documentary filmmaker, with titles like Ghosts of Abu Ghraib and Last Days in Vietnam.

Larry Busacca/VF15/Getty Images
Robert Kennedy Jr., the other son of Bobby Kennedy, is an environmental activist and attorney, who also went on to marry the actress Cheryl Hines. She is his third wife.

Jason Merritt/Getty Images
Kyra Kennedy, the daughter of Robert F. Kennedy, Jr. and his second wife, Mary Richardson, can often be found partying with Gaia Matisse, the great, great granddaughter of Henri Matisse.

Nicholas Hunt/Getty Images
Conor Kennedy is also the son of Robert F. Kennedy Jr. and his second wife, Mary Richardson. He briefly dated Taylor Swift in 2012 and was arrested in 2017 following a bar fight in Aspen, Colorado.

Stephen Lovekin/Getty Images
Bobby Kennedy III is the son of Robert F. Kennedy, Jr. and his first wife, Emily Ruth Black. He is an aspiring actor and director.

Ernesto Ruscio
Kick Kennedy is the daughter of Robert F. Kennedy Jr. and his first wife Emily Ruth Black. She's made acting appearances on Gossip Girl, Curb Your Enthusiasm, and The Newsroom.

Taylor Hill
Patrick Schwarzenegger is the oldest son of Maria Shriver, a journalist who is a member of the Kennedy family, and Arnold Schwarzenegger. Photo courtesy of Getty Images.

Jim Spellman
Katherine Schwarzenegger is the daughter of Arnold Schwarzenegger and Maria Shriver, and the grand niece of John F. Kennedy. Photo courtesy of Getty Images.
6 Rising Male Models from Famous Families Share Their Biggest Pet Peeves