Jackie Kennedy Filled Out John F. Kennedy Jr.'s Application to Brown University Herself
She also kept in touch with his professors.
---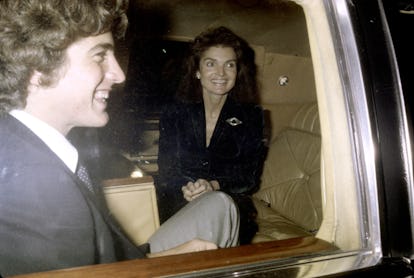 Ron Galella, Ltd./WireImage
Jackie Kennedy earned a reputation as a devoted mother, famously saying, "If you bungle raising your children, I don't think whatever else you do matters very much." However, that quote takes on new meaning in light of recently unearthed documents which show just how much Jackie O was willing to do for her children. That included filling out a college application on behalf of her son John F. Kennedy Jr., as Page Six reports.
The 1978 college application, which is currently up for bidding on by Gary Zimet of MomentsInTime.com, shows just how much value the former first lady placed on education. In the application, which she filed on behalf of JKF Jr. while he was in Kenya, Jackie O lists her son's subject preferences as, firstly international relations and political science, followed by American civilization, dramatic arts, psychology, art, anthropology and comparative literature. Modestly, she lists JFK Jr.'s father's occupation as "government" and her own as an editor at Doubleday Publishing. She also lists his autobiography as "My son John Kennedy is in Africa. I will attempt to fill this out for him. Family life: Mother, sister. Grew up in New York City. Spends part of summer by the sea in New England with many cousins. Attended Collegiate School in New York City and Phillips Academy, Andover Massachusetts… He does not know whether or not he wishes to try for law school, but hopes to decide during his years at Brown." Though, according to one rumor, Jackie O reportedly turned her son away from applying to the Yale School of Drama in favor of Brown's law program, as Page Six notes.
Still, Jackie O seemingly tried to make her son's life as a student as normal as possible, from admitting checking "no" on "Do you routinely pick up your room, make your bed and keep things neat?" in the freshman questionaire to, later — once JFK Jr. was a student at Brown — writing the school dean, "I have never asked for special consideration for my children because I feel that is harmful to them." You can view that letter, as well as her application for JFK Jr., here.