A Cult Following
Designer Jaclyn Hodes's eco friendly line developed, well, organically.
---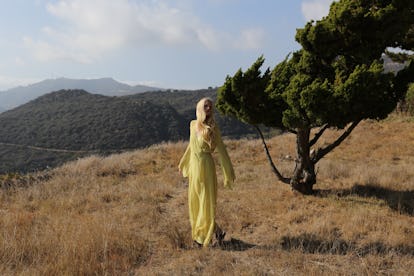 "Of course I didn't know what I was getting into, but maybe that's the only way to really get into things," admits designer Jaclyn Hodes in what sounds like a romantic, coming-of-New-Age story on how she started her earth-conscious fashion label AWAVEAWAKE in the fall of 2012. Just a year prior, Hodes's life was in retrograde; disappointed in work and in love, she abandoned her native New York City, where she worked as a stylist and fashion editor since graduating from Sarah Lawrence, and relocated to New Mexico.
In the desert, during a week-long Kundalini Yoga retreat that entailed white tantric meditations; mantras; the moving colors of the landscape; the stillness and vibrations; a veggie diet; Jaclyn came up with the idea for an earth-conscious sustainable clothing line that would use natural fabrics and dyes, but most importantly which would delicately align her work, aesthetic and beliefs into one concrete vision. "I knew I had to contribute something new, to honor the earth and be in step with the times," says Hodes back home in her Manhattan apartment, where her waist-length brown hair at times touches the floor as she sits Indian style.
The restraint of having to work with a limited range of materials and dyes gives the collection simplicity and focus (think slip dresses and layering pieces like shawls and capes) even as Hodes travels far and wide (Vietnam, Thailand, India) in search artisans to work with. "Silk feels like a second skin, and I was always looking for slip dresses that were durable. I test mine out every single day, I even hike in them," she says, laughing at herself as she admits, "OK, more like low impact walking around a canyon in LA."
Jaclyn Hodes photographed by Blossom Berkofsky.