Notes on a Blowjob: Jacqueline Novak's New Show Spins Oral Sex Into Poetry
With Get On Your Knees, Jacqueline Novak brings hilarity to a heady topic.
---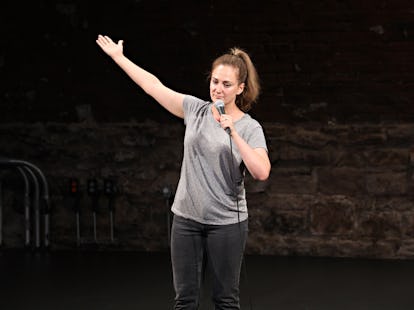 Cindy Ord/Getty Images
"I love whatever the opposite of small talk is. I love when people divulge almost anything," comedian Jacqueline Novak says over the phone, a few weeks before the debut of her off-Broadway show. And that's just what she does in Get On Your Knees, running through August 18 at New York's Cherry Lane Theater. The one one-woman production is a highly cerebral and unexpectedly poetic unraveling of what Novak calls "an object of almost no nuance": the lowly blowjob. And in some ways, she says, she's been working on the material for her entire career.
Novak—who has been performing stand up since 2003—has had her own Half Hour on Comedy Central, has appeared on two episodes of Netflix's The Characters, and has done the late night comedy circuit a few times over. In other words: if you fancy yourself an intellectual comedy nerd, she's probably already on your radar. Along with fellow comedian John Early (who directed Get On Your Knees) she used to host a weekly show on the Lower East Side at the now-closed Cake Shop, and their collaborative relationship continued after the venue shuttered. "We always spent a lot of time talking about theater and the idea of mounting standup in the theater context was such a dream for us," Novak says.
The two staged an early version of the show in Los Angeles, and when Mike Birbiglia, a longtime friend and mentor, saw it he encouraged them to bring the production to the Cherry Lane Theater. Natasha Lyonne, another West Coast attendee, agreed with him.
After workshopping the production under the title How Embarrassing For Her and toying with the idea of simply calling it Blowjob Queen, in reference to a crucial phrase unpacked onstage, Novak settled on Get On Your Knees for the coming-of-age tale. "Even though I like the title How Embarrassing For Her, I feel like it's grounded in where the show starts, which is my heightened sense of embarrassment and just the ways that we talk about women in general," Novak explains. "I wanted to lean more where the show ends, in an exuberant, over-the-top, ecstatic something."
Indeed, Get On Your Knees might best be described as a 90 minute dissertation-meets-hero's-journey that ends with an energetic, poetic soliloquy about Novak finding her sovereignty. On stage, she takes a scholarly approach to analyzing what is often considered to be a vulgar subject. It is a difficult feat to tell jokes that tread the line between erotic and clinical, highbrow and lowbrow (Novak has no qualms with referencing T.S. Eliot, Sharon Olds, and Madonna practically in the same sentence) but she pulls it off. It's intimate enough to talk with one person (a therapist, a friend, a lover) about your awkward adolescent explorations, but in dwelling on that topic in front of a live audience night after night, the comedian finds her power.
"The benefit of comedy is that I can prance around like a professor and take my time working through ideas while people are forced to be silent," Novak muses. "I joke about it in the show, but I was fairly into poetry when I was in college and a bit in high school. Primary to me is the notion or thing I want to say, and I've gotten carried away on that and forgotten that it's supposed to be funny, you know?"
But the show is funny, of course, and it never stops being funny, even as she gets increasingly personal. According to Novak, Get On Your Knees makes a case for imperfection. "Me defending myself to the point of absurdity is a big part of the show," she says, adding that her monologues "might be full of a lot more 'likes' and 'you knows' and stutters or whatever, but I communicate better that way, filled with these verbal tics. If I lock in language completely, it can almost start to lose meaning for me."
As directly as Novak references sex in her act, she also indirectly references depression, a subject she wrote about in her 2016 book How to Weep in Public: Feeble Offerings from One Depressive to Another, which teeters between memoir and self help. (Novak, as she mentions on stage during her show, read a lot of Tony Robbins in her adolescence, and told W, "There's not a self help book I'm not interested in reading.") The narrator of How to Weep in Public assumes that the reader of the book is a fellow "depresso" who needs to hear someone say, "It's okay for you to be exactly where you are, and I'll try to keep you company while you're there." And a line can be traced from that message to Get On Your Knees. "I think in my standup I end up giving permission to myself to feel a certain way, to approach things a certain way or to have a certain opinion. By saying that publicly, I hope it gives other people permission, too."
Novak hopes for this off-Broadway run to live on as a filmed comedy special, and she also wants to create her own television series and films. If the success of her opening night, which attracted just about every alt-comedy persona in New York (and many mainstream ones too), is any indication, it won't be long before she pulls it off.
Related: "Scream Laughing" with John Early and Kate Berlant, the Comedians Behind the Bizarre, Delightful Vimeo Series 555