Jada Pinkett Smith Calls 2017 Oscar Nominations a "Beautiful Step" a Year After #OscarsSoWhite
There's still work to be done.
---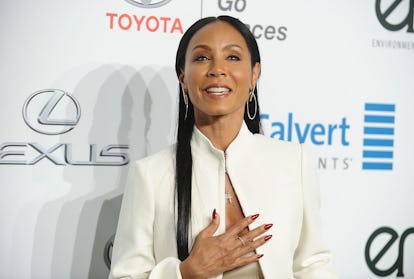 Jason LaVeris/Getty Images
The 2017 Oscar nominations were announced on Tuesday, revealing a much more inclusive slate than 2016's #OscarsSoWhite nods.
Jada Pinkett Smith, one of the voices who led the charge to boycott last year's ceremony, is pleased with the change. That doesn't mean, however, she feels the fight for equality in inclusion is over.
Smith discussed the Oscar nominations with Variety. "I feel really fantastic. It's a beautiful thing to see," she said. "We had a lot of exceptional films this year. I'm glad to see that projects like Hidden Figures, Fences, and Moonlight are getting recognition. I'm very proud this morning."
While the 2016 Academy Awards were notable for nominating zero persons of color in the acting categories, this year's nominations made several strides, among them recognizing black actors in each acting category for the very first time.
Smith's pride in the improvement is only buoyed by a sense of urgency in recognizing inclusive storytelling; "Because of the state that our country is in, as artists it's so important we use our platform to help shine light on how we want to be identified as a country," Smith tells Variety. "I look at this as a beautiful step towards that. Just our participation as artists in this time of how we want to represent our country, what is the messaging we want the world to see. As artists we have strong voices. We create strong imagery in regards to the identity of our country. It's important that we take responsibility for that," Smith argued.
The actress also made clear that the work isn't done yet, but she's grateful for the progress that has been made. She noted, "We have a ways to go, but we've also come a long way. We've come a long way as a country, and we're going to keep stepping."
Watch Willow Smith describe her last birthday: