Jaden Smith and Cara Delevingne to Star in New Film Life in a Year, a Tragic Tale of Young Love
Life in a Year follows, "a 17-year-old boy who, after learning his girlfriend is dying, sets out to give her their entire life together, in the year she has left."
---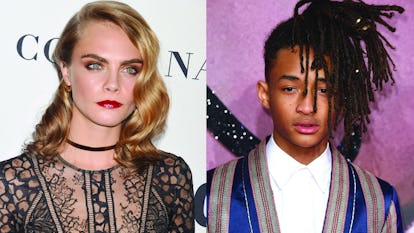 Composite: Anthony Harvey/Getty Images, Jeffrey Mayer/WireImage
Jaden Smith and Cara Delevingne are set to star in a new young-adult drama.
The movie is called Life in a Year, and it sounds like a total tearjerker. Per Deadline, Life in a Year follows, "a 17-year-old boy who, after learning his girlfriend is dying, sets out to give her their entire life together, in the year she has left." Which sounds like something Jaden Smith would try to do for a girlfriend even if she wasn't dying.
Life in a Year will not be Delevingne's first run in the YA movie rodeo, after her debut in the film adaptation of John Green's Paper Towns. Since semi-retiring from modeling, she's kept her IMDB page full with roles in films like Suicide Squad and Pan. For Smith, however, Life in a Year marks a major return to the big screen. He currently appears in Netflix's The Get Down but has largely shied away from film work in the aftermath of After Earth's dismal performance. He's instead since stuck mostly to musical work, boxed water entrepreneur and quixotic quote giver.
Slovenian director Mitja Okorn is attached to shepherd the project in his English-language debut, while Jeffrey Addiss and Will Matthews wrote the script.
Life in a Year is the latest in a trend of tragedy-themed YA movies. There was, of course, the surprisingly seminal A Walk To Remember. The latest wave, kick-started by the success of The Fault in Our Stars, has continued with recent fare like The Space Between Us and the slightly older Me Before You, and the upcoming film Everything, Everything starring Amandla Stenberg. Here's hoping this one is worth at least a guilty pleasure watch.
Cara Delevingne's Style Evolution, From It-Brit To Leading Lady
A very blonde and very baby-faced Cara Delevingne made an appearance at the Robert Cavalli 40-year celebration at Paris Fashion Week in September 2010. Photo by Getty Images.
Later that year, Delevingne rocked the model-off-duty look with a crisp white bibbed shirt and black jeans for a part in London, England, November 2010. Photo by Nick Harvey/WireImage.
Delevingne made her Met Gala debut at the 2011 event for "Alexander McQueen: Savage Beauty" in a Burberry gown with fellow model Douglas Booth. Photo by Getty Images.
At the following year's Met Gala for "Schiaparelli and Prada: Impossible Conversations," Delevingne walked the red carpet with Jourdan Dunn in Burberry yet again, a relatively understated look for the budding style star. Photo by Getty Images.
For the 2012 amfAR gala at Cannes, Delevingne wore a forest green Burberry Prorsum gown, inaugurating her color phase. (It didn't last long.) Photo by Getty Images.
Delevingne's Emilio Pucci hints at her penchant for a plunging neckline, but with a bit more color than her later style choices.
Cara Delevingne at the MAC and Carine Roitfeld party 'Le Bal' in Paris, France, October 2012. Photo by Getty Images.
Delevingne was dubbed Model of the Year at the British Fashion Awards in 2012, an accolade she accepted in a metallic green Burberry shift. Photo by Getty Images.
At the 2013 Met Gala for "Punk: From Chaos to Couture," Delevingne threw it back to her gala debut two years prior in a similar, but more daring, Burberry design. Maturing hand-in-hand with Christopher Bailey. Photo by Getty Images.
Delevingne again selects Burberry–this time for her Cannes debut, appearing at the opening ceremony and The Great Gatsby premiere in May 2013. Photo by Getty Images.
In a rare diversion from her usual look, Delevingne eschews Burberry in favor of Stella McCartney (she also arrived as part of the designer's squad), making the pantsuit look work for her. Photo by Getty Images.
Delevingne's embellished Roberto Cavalli gown wasn't even the highlight of her look for the 2014 De Grisogono party at the Cannes Film Festival — instead, it was the De Grisogono monkey necklace she wore slung over her back. Photo by Getty Images.
From model to movie star — Delevingne was spotted on the Paper Towns press circuit in a Dion Lee minidress with Saint Laurent sandals, and a superhero-esque shade of eyeshadow (perhaps foreshadowing her Suicide Squad casting to come).
Cara Delevingne at the Australian premiere of Paper Towns in Sydney, Australia, July 2015. Photo by Getty Images.
And from Burberry girl to Saint Laurent — at the New York premiere of Paper Towns, Delevingne opted for a shimmery Saint Laurent look, sticking with the minidresses that served her well over the course of the press tour. Photo by Getty Images.
British It girls, unite. Delevingne hasn't cut ties with Burberry by any means; she and Kate Moss appeared at the house's Spring 2015 show together. Photo by Getty Images.
Delevingne is a woman of many hats, moving fluidly back and forth between the fashion and film worlds (and, more than occasionally, mixing the two). She wore a feathered Burberry mini for the premiere of Pan in London, England, September 2015. Photo by Getty Images.
Then, of course, there's her long-standing muse-ship with Karl Lagerfeld; she oozed Chanel couture at the fashion house's Spring 2016 presentation. Photo by Getty Images.
Delevingne recently joined the #BalmainArmy, wearing one of Olivier Rousteing's body-con jumpsuits for the MTV Movie Awards in Burbank, California, April 2016. Photo by Getty Images.
Cara Delevingne attends the Chanel show as part of the Paris Fashion Week Womenswear Fall/Winter 2017/2018 on March 7, 2017 in Paris, France.

Getty
Cara Delevingne arrives at the Glamour Women Of The Year 2016 at NeueHouse Hollywood on November 14, 2016 in Los Angeles, California.

Getty
Cara Delevingne wearing Burberry at the Burberry September 2016 show during London Fashion Week SS17 at Makers House on September 19, 2016 in London, England.

Getty
Cara Delevingne attends Magnum party during the 70th annual Cannes Film Festival at Magnum Beach on May 18, 2017 in Cannes, France.

Getty
Cara Delevingne attends a dinner hosted by Doutzen Kroes and Lucy Yeomans in honour of Save the Elephants at The Orangery on June 12, 2017 in London, England.

Getty
Cara Delevingne attends "Rei Kawakubo/Comme des Garcons: Art Of The In-Between" Costume Institute Gala at Metropolitan Museum of Art on May 1, 2017 in New York City.

Getty
Cara Delevingne attends the 2017 MTV Movie and TV Awards at The Shrine Auditorium on May 7, 2017 in Los Angeles, California.

Getty
Cara Delevingne attends the Chanel Haute Couture Fall/Winter 2017-2018 show as part of Haute Couture Paris Fashion Week on July 4, 2017 in Paris, France.

Getty
Cara Delevingne attends the premiere of EuropaCorp and STX Entertainment's "Valerian and The City of a Thousand Planets" at TCL Chinese Theatre on July 17, 2017 in Hollywood, California.

Getty
Cara Delevingne attends Valerian and the City of a Thousand Planets Paris Premiere at La Cite Du Cinema on July 25, 2017 in Saint-Denis, France.

Getty
Cara Delevingne attends the "Valerian And The City Of A Thousand Planets" European Premiere at Cineworld Leicester Square on July 24, 2017 in London, England.

Getty
Cara Delevingne attends the "Valerian And The City Of A Thousand Planets" Mexico City premiere at Parque Toreo on August 2, 2017 in Mexico City, Mexico.

Getty
Cara Delevingne Does ASMR: