Jaden Smith Really, Really Wants to Be the Next K-Pop Star
With G-Dragon's blessing, the enigmatic 18-year-old is moving into a genre that even for him seems a bit left-field.
---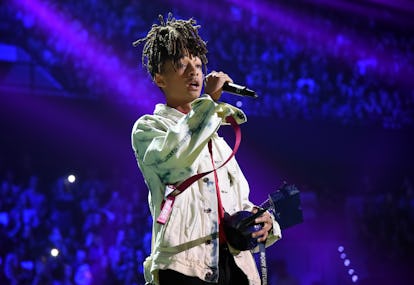 Jeff Kravitz/Getty Images
You never know what you're going to get with Jaden Smith, especially when the news of the enigmatic 18-year-old's activities is coming from his capital letter-favoring Twitter account. As of 4/20, its current pinned tweet is a 45-second video of a sound mixer featuring a "A Clip From A Rock Band I'm Starting," but don't let that fool you: the genre Smith is making moves on actually turns out to be K-Pop.
That might sound a bit left-field even for Smith, but it turns out he's long been harboring this aspiration—one he first hinted at, and then defiantly stood by, in December of last year.
After all, Smith, who once claimed to be "a vampire, for real," has always mixed it up with his extracurriculars, from donning a skirt for a Louis Vuitton ad to starring in Baz Luhrmann's The Get Down to leaving his art around the streets of Los Angeles and tweeting out its location—a tactic he may have learned from the equally enigmatic Shia LaBeouf, whom he collaborated with on LaBeouf's live-streamed anti-Trump project (before it got LaBeouf arrested and was later shut down.)
Plus, Smith's no stranger to music: he recently came out with a video for a single from his upcoming album "Syre," which was set in Calabasas, long before the land of juice bars, Yeezy, and Lululemon was on-trend—all the way back in 1800s. Like LaBoeuf, though, Smith's quickly encountering that a catalogue unraisonné often comes with its fair share of attention from critics, too. While originally met with praise from his inspiration, G-Dragon—and even an invitation to "do something"—Smith's latest K-Pop plans have drawn a bit more lukewarm of a response. If Smith's infamous interview quotes are any indication, though, at least his lyrics definitely won't disappoint.
Related: Who Is Jaden Smith's New Lady Friend, Celebrity Scion Odessa Adlon?
Watch Willow Smith Fondly Remember Her Short-Lived Pink Mohawk: