Jaden Smith, King of the Crazy Quote, Had a Livestreamed Breakdown After Failing His Driving Test
"It just shows you how sad society and life is sometimes, you know what I'm saying?"
---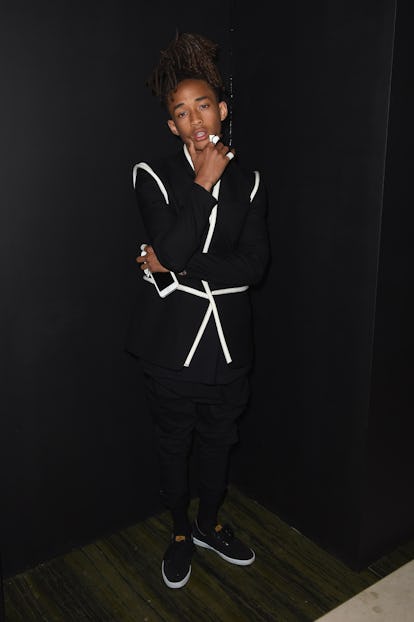 Photo by Getty Images.
Jaden Smith, the Jedi Master of the crazy interview quote, found himself spewing quite a string of potable quotables recently.
Earlier today, when Smith visited the Department of Motor Vehicles in Los Angeles, he lived through a plot-line from Clueless—Cher Horowitz's living nightmare, to be exact. The only difference is that when the actor and rapper failed his driving test he had social media to turn to. While still at the DMV, Smith livestreamed himself from the inside of his car, where he went on a monologue about the test that dovetailed into the state of the world and some trademark philosophizing.
"It's going to be so funny to tell my dad that I've failed straight up," said the 18-year-old anxiously in the video, which was deleted not long after but has since popped up on Youtube. Of course, Smith is referencing his famous father Will Smith. "You didn't fail, you're not failing," said another, unidentified voice from inside the car. It might not matter if he did though, as Smith later revealed that he won't be hanging much longer in the sprawling city where cars are a near-necessity. "I'm about to move out of L.A.," he said. "There's a lot of bad things here."
"I'm at the DMV," continued Smith. "It just shows you how sad society and life is sometimes, you know what I'm saying?"
Smith then went on the rhapsodize about how everyone should lead their lives, as he's been known to do in the past. "Create the life that you want for yourself," he said. "Everybody follow your heart, you know what I'm saying? Do exactly what you want to do, be who you want to be. Don't try to be somebody else. It's hard these days to really create the life you want for yourself because there's nobody really here that's like supporting the youth or the youth's creativity."
He also wondered aloud why scientists aren't Instaramming Live, which is, to be fair, a valid question. "What is Instagram Live? Why aren't scientists Instagram Live-ing? Why aren't people Instagram Live-ing to cure cancer right now?" he continued. "Why aren't we Instagram Live-ing about peace right now? This makes no sense, nothing about this life makes any sense…Sitting here on Instagram, sitting here being distracted we're not even focusing on our own lives."
It really makes you think, dude.
2016 Proved the Only Thing You Need to Be a Model Is a Famous Parent (Or Two)
by David Urbanke. Produced by Biel Parklee.
Selah Marley in the Calvin Klein Fall 2016 campaign.

Tyrone Lebon
VENICE, ITALY – SEPTEMBER 04: Sistine Rose Stallone attends the premiere of 'Hacksaw Ridge' during the 73rd Venice Film Festival at Sala Grande on September 4, 2016 in Venice, Italy. (Photo by Venturelli/WireImage)

WireImage
Emma Stone, Natalie Portman, Amy Adams, and More Stars of the Year's Best Films Get Really, Really Into "I Will Survive" by Gloria Gaynor
Emma Stone, Natalie Portman, Amy Adams, and More Stars of the Year's Best Films Get Really, Really Into "I Will Survive" by Gloria Gaynor