J'adore: L'Wren Scott's Obsessions
The designer reveals some of her more stylish obsessions.
---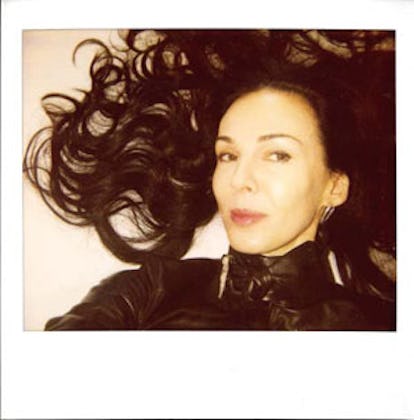 Her clothes make women feel sexy and powerful—much like herself. L'Wren Scott, a six-foot-three beauty, also understands the power that makeup can wield, which is why she has collaborated with Aaron De Mey, Lancôme's artistic director, to create a holiday collection, L'Wren Scott for Lancôme. Here, the designer reveals some of her more stylish obsessions.
THE HOUSE OF LELEU: CLASSIC FRENCH STYLE FOR A MODERN WORLD 1920–1973, BY FRANCOISE SIRIEX
"Jules Leleu was a famous interior decorator who made the most incredible furniture. A few years ago I stumbled upon some piece of his at an antiques fair. I researched his name and found this book. It's fun to discover something like that. That's the kind of thing I get hysterical about." amazon.com
l'ARPEGE RESTAURANT, PARIS
"Alain Passard isn't your typical French chef. In general, they don't like vegetables in France, but he grows his own in Normandy, so he serves these massive plates of perfectly cooked vegetables and beautifully prepared fish. It's amazing food. You have to be ready when you go there because you'll eat a lot." alain-passard.com
CHASSAGNE-MONTRACHET, 2002
"I like to have a nice Montrachet white. That's my preferred grape." wine-searcher.com
MONOGRAMMED LINENS
"I have a very big family and a lot of friends, and buying presents is one of my favorite things to do. I became obsessed with finding vintage bedding embroidered with their initials. When I'm traveling, especially in Asia, I find beautiful linens at little textile mills in Laos, as well as Maheshwar and Rajasthan in India. If you are really nosy and insistent, you can dig around and find these wonderful old things that people don't think are good anymore."
CAMPO LISIO OLIVE OIL
"I have a friend who has an olive grove, and when he harvests he gives me his freshly pressed oil. It's cold-pressed, unfiltered, organic extravirgin oil called Campo Lisio, and it's hand-picked at a place called Ugento in Puglia, Italy." realsalento.com/campo-lisio.php
L'ABSOLU ROUGE LIPSTICK IN LE ROUGE L'WREN
"When Aaron De Mey and I worked on the Lancôme collection, lipstick was the item I obsessed over the most. It had to have the right texture and consistency so you can wear it lots of different ways. It had to have the right amount of blue and couldn't have too much brown. I knew exactly what I didn't want it to be—cakey, flat, sparkly, or frosty—and I wanted it to have this kind of modern feel so that I could wear it on my cheeks and my lips. If you're going into a meeting, you put it on for a bit more confidence. There's lots of things you pull out lipstick for." lancome.com
Scott: Courtesy Of L'wren Scott; Hair By Leonardo Manetti; Makeup By Talia Shobrook. Still Lifes: Hannah Whitaker.