Jake Gyllenhaal Is Coming to TV to Play a Literary Scammer
"Zola" director Janicza Bravo will helm the series.
---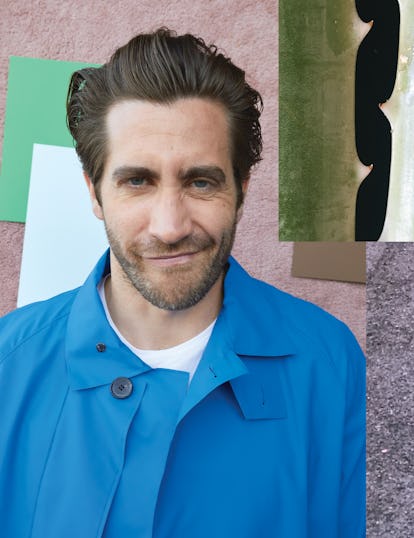 Photographs by Juergen Teller; Styled by Edward Enninful
Back in 1994, a tweenage Jake Gyllenhaal appeared on an episode of police procedural Homicide: Life on the Street, but since then, he's mostly stuck to films—aside from a few sketch comedy show guest appearances here and there. Now, 26 years latter, Gyllenhaal is heading back to the small screen, and teaming up with one of Hollywood's hottest up-and-coming directors Janicza Bravo in the process.
Though the series has no official title at the moment, it will be an adaptation of a 2019 New Yorker article titled "A Suspense Novelist's Trail of Deceptions." Gyllenhaal will star as Dan Mallory, a young novelist and former editor whose debut novel The Woman in the Window (written under the pen name A.J. Finn) was an instant publishing sensation. But Mallory's reputation was soon picked apart when it was revealed he had an extensive history of lying to everyone around him about, well, just about everything. His more serious fabrications included a fake doctorate degree from Oxford, lies about suffering from brain tumors, and the deaths and suicides of his still-very-much-alive mother and two brothers. Mallory may have also lied about things like a past life as a model who appeared on a Russian Vogue cover and a personal friendship with Ricky Martin. Oh, and if that wasn't enough, the story also claimed that he may have ripped off numerous parts of his novel from the mostly forgotten 1990s thriller movie Copycat.
Bravo will co-write and direct the series, and it certainly comes at a peak in her career. While the release of her film Zola (yes, the one based on a Twitter thread) has been continually delayed due to the COVID-19 pandemic, the buzz around the project is strong. Bravo will also bring a new perspective to Ian Parker's original reporting.
"What may have started out as my dog ate homework turns into my mother died of cancers, my brother took his life, and I have a double doctorate," Bravo told Deadline. "Our protagonist is white, male, and pathological. There is a void in him and he fills it by duping people. He's a scammer. The series examines white identity and how we as an audience participate in making room for this behavior."
Television and film adaptations of true life scammer stories are certainly all the rage at the moment. Super producer Shonda Rhimes is overseeing a take on the fake heiress Anna Delvey for Netflix. Jennifer Lawrence is still attached to a project based on Elizabeth Holmes. Then there are conflicting reports as to whether or not a show based on the scam-adjacent exploits of Caroline Calloway is actually in the works. Interestingly, many of those projects are based on the tales of female scammers, but Bravo wants to put the attention back on the schemes of the other sex.
The project will be produced through Megan Ellison's Annapurna Television, but no network or streaming service is attached.
Interestingly, in between the release of A Woman in the Window and the New Yorker article, a movie adaptation of the novel starring Amy Adams was produced. The film will finally see the light of day after Netflix bought distribution rights.