Dark Star: Jakub Julian Ziolkowski
Young polish artist Jakub Julian Ziolkowski doesn't get out much, but his mesmerizingly vivid, often nightmarish paintings have the art world abuzz.
---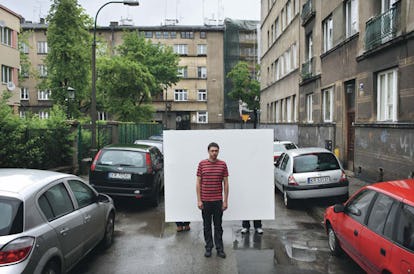 Among the numerous incidents that almost got Jakub Julian Ziolkowski expelled from art school, one in particular stands out in his memory. During his first year at Poland's prestigious Jan
Matejko Academy, Ziolkowski, frustrated with the banality of his courses and convinced that he couldn't work in a roomful of other students, decided to stay home and paint. So he skipped his classes one day, and the next day, and the next. A month later, when he'd completed 40 paintings, he finally got the nerve to go back and face his furious teachers.
"They told me, 'You just cannot do that! You have to be here. You have to paint this still life,'" recalls Ziolkowski. But the paintings must have been extraordinary because the school eventually agreed to a rare arrangement, allowing him to continue working alone at home. "They understood that they could not stop me."
Evidently nobody can. Ziolkowski, 30, is still as prolific and reclusive, but now he's one of the most acclaimed young painters on the international art scene. His work is being chased by top curators and mega­collectors such as François Pinault and Dakis Joannou, and he's about to open his first New York solo show, on June 30 at Hauser & Wirth.
Ziolkowski's hallucinatory works, which offer a lurid contrast to the wave of cold-eyed Polish realist painters who made news a few years ago, depict a phantasmagoric world of disembodied limbs and breasts, squirting capillaries, vomiting mutants and coiled snakes. Look closely at one of his busy landscapes and you might see a tiny image of a rape in progress, or Ziolkowski himself, in the form of a skeleton, greeting the viewer with a creepy wave. The works swirl with conflicting narratives and present a compulsively cataloged vision of inhumanity.
"What I love is that it doesn't look obviously contemporary," says curator Massimiliano Gioni, who selected Ziolkowski for the seminal "Younger Than Jesus" show last year at the New Museum of Contemporary Art in New York and for the upcoming Gwangju Biennale in South Korea. Art critics compare Ziolkowski to a remarkably broad range of painters, from Hans Bellmer and Hieronymus Bosch to Philip Guston and outsider artists. "There's a balance between the exquisite refinement of the technique and then this total obsessiveness," says Gioni. "Also, there's the courage to do something really far out. Jakub's work is really a journey across his mind."
Sitting in his Kraków apartment and studio, Ziolkowski, wearing jeans, a loose-fitting orange T-shirt and glasses, is affably courteous and mild-mannered, though he laments that he's not used to discussing his work with strangers, particularly with a tape recorder on. (When we stop for a break, he takes a deep breath, runs his hands though his hair and says, "Oh, I'm so stressed!") For all his shyness he seems incapable of dodging any questions; while formulating responses he often gazes into the distance and tenses his mouth, and then tries to tell the truth, or at least most of it. "I just believe that people are really bad," he says at one point. "We think we are clever, but we are very, very primitive."
Born and raised in the Renaissance city of Zamo´s´c, the son of two doctors, Ziolkowski began drawing as a boy, and at age 15 came across some images by James Ensor, the Belgian painter whose grotesque works had had a huge impact on the Expressionists and the surrealists. "It was very emotional," he says. "You can't explain why you like it, but it feels so familiar." After his graduation show at the art academy in 2005, he was immediately signed by Warsaw's top gallery, Foksal Gallery Foundation, and within a year, though he seemed oblivious to the workings of the commercial art world, he'd attracted the notice of Iwan Wirth and was showing at Hauser & Wirth's distinguished London gallery. On the night of the opening, Ziolkowski avoided the crowd, mostly cowering in the corner with a London-based cousin.
Ziolkowski's air of extreme innocence is offset by his shrewd intelligence and dark humor. "I'm not a total freak," says the artist, who shares his bright and spacious apartment with his girlfriend, a Vietnamese-born psychology student. Making art is not quite therapy, he explains, but it does provide a kind of "emotional ventilation" that he finds crucial. He never paints from life or photographs, relying entirely on his imagination, and his technique on canvas is fast and feverish—"chaotic and intuitional," as he puts it. People who have seen his work sometimes ask if he takes hallucinogens for inspiration. "Never," he says. "I don't know what might happen if I did. Maybe I would paint very classically."
One recurring theme in his art involves motherhood and fertility. Ziolkowski's mother died of cancer in 2005, while he was at her bedside; he says he decided at that moment that there is no God. "I realized that we're probably nothing, that we're just dust, meat, et cetera." In the days before her death, when his mother had lost 99 percent of her vision, she wanted to visit her son's studio, to look at his paintings using the remaining one percent. "It was very interesting—we were talking only about the details," he says.
The artist's trademark gory details are ubiquitous in his paintings for the New York show, though some new works also offer satirical commentaries on narcissism, greed and celebrity, which seem tailor-made for the American locale. Some are mock concert posters featuring Ziolkowski's fictional alter ego; others depict warring bodies with gaping flesh, or an obese and veiny backside spewing out undigested gold coins. There are also gorgeously vibrant gouache works and more abstract images on wood panels, painted in scrupulous detail with a tiny brush.
In Poland (and elsewhere) these days, there's a fresh crop of under-30 painters, including Tomasz Kowalski and Tymek Borowski, who are embracing a neo-surrealist style similar to Ziolkowski's, perhaps inadvertently lending him the air of a pioneering elder. "Right now you have 20 or 30 young painters like me," Ziolkowski says flatly. "I don't associate myself with that movement." Neither does his gallerist at Foksal, Andrzej Przywara, who works with very few painters but made an exception for Ziolkowski, in part because of the personal and psychological nature of his pieces. "For me, it's important that Jakub Julian is working with the completely unconscious element, this heightened aspect of his imagination," Przywara says.
Ziolkowski is well aware that the compulsiveness that drives his best work often leads to complications in real life. "I think that I'm a bit obsessive, and sometimes that's my everyday fight," he says. "If I ever want to have a family and a normal home, I'm going to have to struggle a little bit, because I really like to spend time alone." He has friends who tell him that he's too isolated in his studio, that he needs to leave it more often, to find inspiration in the real world. Ziolkowski disagrees. "I have a very interesting life in my studio," the artist says. "There are so many things happening in my head. It's a whole universe. People think I'm in a jail, in a cage, but I'm completely free."
Untitled, 2010, gouache and ink on paper, 39 1/4″ x 27 3/4″
The Clash, 2010, acrylic and oil on canvas, 68 7/8″ x 82 5/8″
Untitled (detail), 2010, gouache and ink on paper, 33″ x 27 5/8″