James Franco Covered People in Clear Goo in the Name of Art
The restless actor's latest artistic endeavor is a homage to the Della Robbia family of Renaissance sculptors.
---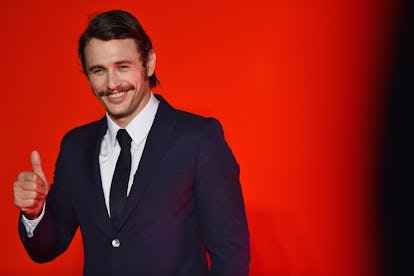 WireImage
These days, James Franco is still somehow generating more output in a month than some creatives do in a decade. For his latest trick, he's taking on Renaissance sculpture through the medium of video art. Naturally, that means he's had a bunch of people filmed while being covered in clear goo. And it somehow makes more sense than you think.
The video was commissioned by Sotheby's to celebrate their sale of works by Florence's Della Robbia sculpting dynasty. It's part of the auction house's Artist Response series, in which they invite contemporary artists to create new work inspired by or in conversation with classical works.
The first notable member of the Della Robbia family was Luca della Robbia. He was your run of the mill sculptor working in Florence in the 1440's until he developed a unique process of glazing terra-cotta. It allowed the pieces to reflect light and retain deep colors, and the coating allowed the pieces to hold up better against the elements. Della Robbia then handed down the process to his nephew Andrea, and the business was eventually taken over by a great-nephew, Giovanni. The Sotheby's exhibition includes pieces from all three family members.
Here is where Franco comes in. Taking the glazing process as his starting point, he decided to drench models in shiny, clear goo like it was the Nickelodeon Kid's Choice Awards. Except, you know, for art.
Watch the results here:
"I was immediately struck by the vibrancy and shine of the glaze of the Della Robbia sculptures in this show, especially the human forms frozen in time as icons. To mimic and modernize these sculptures, I wanted to create living icons emphasizing the glazing process," said Franco in a statement, according to The Creator's Project. "I filmed them in slow motion so the viewer relishes in the passage of time and can imagine the tangible feeling of the liquid covering each living sculpture."
Each setup in the film is meant to mimic a specific work by a Della Robia. In case you're wondering, this is what a real Della Robia looks like:
The exhibition is on view in New York until November 18th.
Watch James Franco take W's Screen Test: