James Franco Prays the Gay Away in I Am Michael Trailer
James Franco plays a gay activist turned conservative Christian in I Am Michael, which will finally make its debut after years in limbo.
---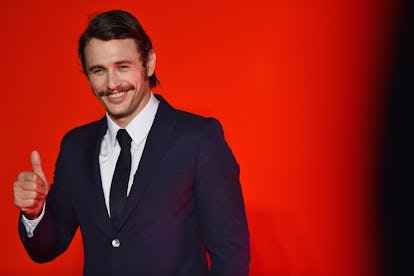 WireImage
James Franco might be Hollywood's most prolific portrayer of characters based on real life gay men. There was the activist Scott Smith in Milk, poet Allen Ginsburg in Howl, Hart Crane, another poet, in The Broke Tower, and a murderous gay porn producer in the recent King Cobra. For I Am Michael he shakes it up a bit by playing an avowed "ex-gay" based on a real person.
The film, which co-stars Zachary Quinto and Emma Roberts, is based on Benoit Denizet-Lewis's 2011 story "My Ex-Gay Friend" for The New York Times Magazine.
Franco stars as Michael Glatze, who was once an editor for the San Francisco-based gay magazine XY in the '90s, a tireless activist for gay rights, a documentarian that chronicled the epidemic of suicide amongst LGBT youth, and was in a steady relationship with a man.
Then, around his 30th birthday, something in Glatze changed. He became not only a born-again Christian but also a born-again heterosexual. Quinto plays Glatze's former boyfriend while Roberts plays a woman who falls in love with him after his conversion.
The film has something of an interesting backstory. Director Justin Kelly presented it as his feature-length debut all the way back in January 2015 at Sundance. There the film received praise, especially for Franco's performance, though it didn't find immediate distribution. Though, the buzz was strong enough that Kelly was able to work on his follow-up, the aforementioned King Cobra. That film has its theatrical release this past October, though I Am Michael remained in limbo.
Those who aren't regular film festival attendees will finally get a chance to watch on January 27th when the film receives both a limited theatrical release and a Video On Demand release.
Kelly, meanwhile, is already at work on his third film. Currently untitled, the project stars Abbey Lee, Riley Keough and Caleb Landry Jones and is expected to also debut sometime next year.
James Franco himself has also kept busy as a director, most recently helming a short for Stuart Weitzman starring Gigi Hadid.