Rebel Without a Pause
For his latest escapade in the art world, movie star and artist-turned-curator James Franco takes on the legend of James Dean. Linda Yablonsky goes along for the ride.
---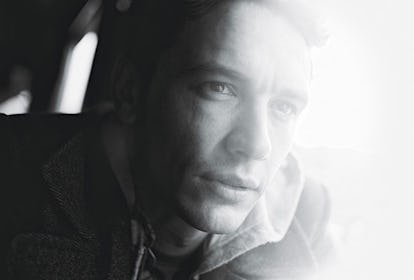 When James Franco isn't making films, the ­Oscar nominee might be found writing fiction, studying for a graduate degree, teaching, or home alone reading—­anyway, not sleeping. That would take too much time from his forays into the art world, where some regard him as a celebrity dilettante and others welcome his presence, at least at openings and benefits.
Now they may have to take him seriously—as both an ­artist and a curator. For "Rebel," an exhibition he conceived for the Museum of Contemporary Art, Los ­Angeles, the 34-year-old Franco aligned himself with six high-­profile collaborators: art titans Ed Ruscha and Paul McCarthy, Turner Prize winner Douglas ­Gordon, paint-by-­motorcycle artist Aaron Young, fashion photographer Terry ­Richardson, and filmmaker Harmony Korine. On view simultaneously at JF Chen and the Box gallery in L.A. through June 23, the show's array of films, photographs, and sculptures is nothing if not ­ambitious—and testosterone-driven.
"I wish there were more women involved," Franco admits, sounding sheepish. "That wasn't planned, and it's a shame, because I do collaborate with women." He's about to board a plane for the Florida shoot of ­Korine's Spring Breakers, in which he'll play the lead. "I'm not doing 'Rebel' to be liked or to further my acting career," Franco says. "As an actor in mainstream films, I serve a director's vision. I'm fine with that, but I also need an outlet for my own ideas, and in art I feel the least restraint."
"Rebel" weaves a number of lacerating and gender-­bending new strands of narrative into the Oedipal tangle of off-screen relationships that fueled the 1955 production of Rebel Without a Cause, ­Nicholas Ray's classic drama of teenage angst starring James Dean, Natalie Wood, Sal Mineo, and Dennis Hopper. Released less than a month after Dean died at the age of 24 in a car crash, the film entered the pantheon of American films and has made Dean—­memorably portrayed by Franco in a 2001 television movie—an icon of sensitive manhood.
As the salacious backstory that inspired Franco's project goes, Wood, 16 at the time, had affairs with both Ray, then 43, and Hopper, 18. Ray, a father figure to Dean, was known to rehearse and party with the cast and crew in his Chateau Marmont bungalow. (Before production began, Ray found his teenage son by his first marriage in bed with his then wife, actress Gloria Grahame.) ­For "Rebel," McCarthy and his 38-year-old son, Damon, reconstructed Bungalow Two and shot videos with Franco cast as Dean and Paul ­McCarthy as Ray. "What interested me wasn't the reality of what happened in the bungalow," ­McCarthy says, "but the situation of a patriarch controlling a youth—and the bungalow as the space they're all trapped in."
Korine, whom Franco dubs the current "king of teenage rebellion," restaged the movie's knife fight as a face-off between two machete-wielding girl gangs who strip for a battle led by Mineo, played by—who else?—Franco. ­Richardson's photographs of a glammed-up Franco in high drag make eye-popping reference to Dean's, Mineo's, and Ray's famously ambisexual identities. A short film Franco directed casts an androgynous girl as a troubled boy who goes mental after the death of his mother—an echo of Dean's childhood. In another, Franco gets tattooed with the name Brad ­Renfro, a budding actor of the Dean variety who died in 2008 from a heroin overdose.
"Rebel" also brings to light the earliest draft of Ray's original script, which began with a man on fire and a young girl stripped and whipped by teenage thugs. "I don't know how he ever thought that would be shown in 1955," Franco says. But in 2012's "Rebel," it will be—sort of. Gordon "interprets" Ray's scenes in two videos he ­choreographed with a nude Henry Hopper (son of Dennis), including one that shows him on fire from within. As for Young, he supplied a 1950 Ford Custom ­Tudor coupe (the model of the car that crashed with Dean's), dropping it from a crane in an elegiac video.
"I believed in this material and explored it with some of the best artists around," Franco says. "But I can't get away from being an actor in the art world. That's also something I'm interested in reworking."
Production still of Franco in Age 13, 2011.

Stylist: Giovanna Battaglia
Douglas Gordon, Self Portrait of You + Me and Me + You + You + Me + Me + You (02), 2011.

Stylist: Giovanna Battaglia
Franco and Ed Ruscha in Franco's The Blind Run, 2011.

Stylist: Giovanna Battaglia
A still from Aaron Young's Grapevine, 2011.

Stylist: Giovanna Battaglia
Franco and cast in Harmony Korine's Caput, 2011.

Stylist: Giovanna Battaglia
Production still from Gordon's Henry Rebel, 2011.

Stylist: Giovanna Battaglia
Franco portrait by Andreas Laszlo Konrath for W.

Stylist: Giovanna Battaglia