Jami Morse Heidegger's Advice: Stay Out of the Sun!
The Retrouvé founder on her current obsessions and skincare secrets.
---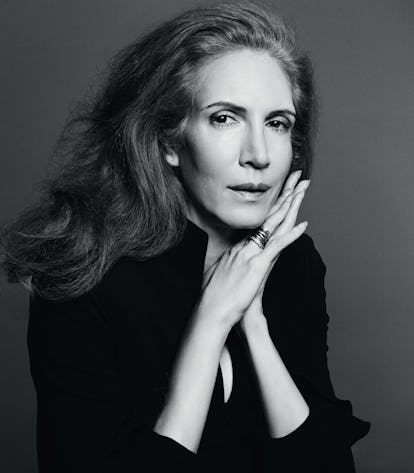 To say that skincare runs in the family is an understatement for Jami Morse Heidegger. Her grandfather, Morse, was a Kiehl's apprentice–and eventually bought the business. Heidegger inherited the company from her father and then sold the brand to L'Oreal. Now, the beauty maven has her own company–Retrouvé, which she initially founded with her husband for her personal use. She has since developed it into an under-the-radar unisex line, with a cult following.
What's currently in your purse? Sunglasses, a Solumbra foldable wide-brimmed hat, my own formulation of moisturizing sunscreen, chia seeds, water, gloves, The New York Post, photos of the kids, my Blackberry, Black Amex, Priti or RBG nail color (I try to use the safer, less toxic polishes and therefore bring my own as most nail salons still stock the traditional poishes), the latest version of our still in development Retrouvé body oil, an Hermès scarf, Moroccanoil Hair Treatment, Mason Pearson hair brush, a soft toothbrush and Crest toothpaste, dental floss, Kiehl's Lip Balm #1, my iPod, and business cards from my daughter Nicoletta's sex therapy practice to distribute – I have a large purse!
What was your first beauty memory? Playing in the lab alongside my father at the age of three. Concocting gooey purple formulations was my specialty!
What's your skincare pet peeve? I find it distressing when people insist on leaving the window shades open during airplane flights. At 35,000 feet in the air, ultraviolet rays are more intense, and radiation levels are higher – which can cause long-term damage to the skin. To lessen this unsafe exposure, I prefer to fly at night, when possible, and I try always to book a window seat so that I can at least commandeer my own shade!
What's the most common beauty blunder that you see? The most common beauty blunder I see is not protecting one's skin from the sun! At this point in time and with our diminishing ozone layer, we are warned continuously by medical professionals, scientists, and beauty experts alike that exposure to the sun leads to premature ageing of the skin as well as skin cancer, so why take that risk? The frequent and generous application of a sunscreen product as well as a wide-brimmed hat and sunglasses can go a long way in maintaining a healthy, youthful appearance.
What's your skincare secret? As my dad used to say, "From nothing comes nothing." Maintaining a healthy skin condition takes commitment!
What's your favorite off-label use for a beauty product? I like to mix a bit of our Intensive Replenishing Facial Moisturizer with my MATCHCo. foundation before applying in order to create a beautifully dewy, even-toned "Bianca Jagger Studio 54" look. (It has been said that Ms. Jagger would sit in the bath in full makeup to achieve her own signature look!)
What's your latest obsession? I have been collaborating with the aesthetician team at Skin Style Beverly Hills to create a signature Retrouvé treatment, a moisturizing and tightening fete for the face, neck, and décolleté. The Retrouvé Hydrating Treatment at Skin Style Beverly Hills marries cutting-edge Radio-Frequency Tightening, Oxygenation, Ultrasound, and LED Light Therapy technologies with Retrouvé's unparalleled anti-ageing formulations. I also love IV vitamin drips for internal antioxidants!