Jamie Lee Curtis Can't Stop Posting Halloween-Themed Memes
The film has become the highest preselling horror flick of the year, so her approach seems to be working.
---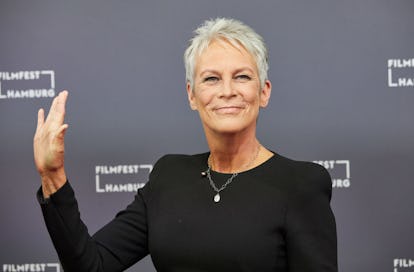 picture alliance/Getty Images
This weekend, Jamie Lee Curtis, the original scream queen, returns to the silver screen as Laurie Strode in Halloween, which will be the eleventh installment in the cinematic franchise started by director John Carpenter.
For those who have not seen the original: Forty years ago, Laurie Strode was attacked by Michael Myers in a sleepy Illinois town on Halloween. In the 2018 sequel to that story, directed by David Gordon Green and cowritten by Danny McBride, Laurie must save herself again as Michael Myers escapes an institution to haunt her once more. Naturally, audiences are already clamoring to see the reboot of the classic Halloween. (Cinemablend reports that the sequel is the highest preselling horror film of 2018.
In advance of the release of Halloween—and in between promoting Me, Myselfie & I: A Cautionary Tale, her children's book about a different type of horror we all face on a daily basis, or the dangers of spending too much time staring at our screens—Curtis has spent a significant amount of time curating a collection of memes and fan art of the Halloween franchise on her Instagram.
For example, take this meme Curtis recently shared, in which Sandy and Danny from Grease (a film that was released the same year as the original Halloween) have Laurie's and Michael's faces superimposed over their bodies. It almost causes one to wonder what Frankie Valli would think if he had to redo his iconic theme song from the movie, adjusting the words to be more Halloween horror-centric.
From "Rosie the Riveter"–inspired drawings to a remix of the Nike logo, this is some real "mom" content right here, and Curtis's page is full of so many of these Halloween memes. In fact, it makes a lot of sense that the scream queen would actually be more of a meme queen—she is, after all, responsible for some iconic viral moments that persist (quickly search "Jamie Lee Curtis pointing" or "Activia" if you need a refresher on the actress's Internet impact).
Related: Jamie Lee Curtis Met a Fan Who Survived a Home Invasion Because of Halloween