The Rembrandt Collection
Old Master specialist Jan Six XI shakes up Sotheby's sleepy Amsterdam office and shares his family's own Rembrandt with the world.
---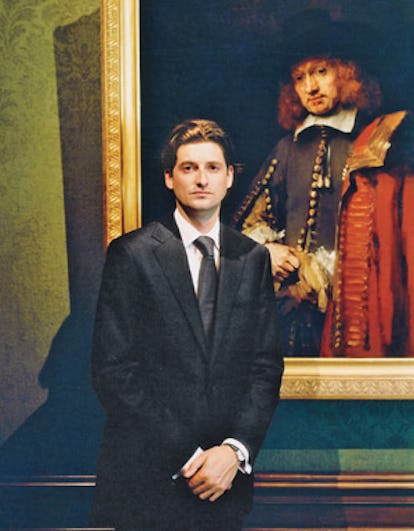 Jan Six XI had a small errand to run recently. He and his father, Jan Six X, collected a portrait of Jan Six I, their direct ancestor, from the Dutch royal residence in The Hague and delivered it to the nearby Mauritshuis Museum. The painting just happened to be a Rembrandt; priceless, it is considered the artist's most valuable work still in private hands.
No big deal, says the 29-year-old. Stop in, chat with Queen Beatrix, who'd borrowed the picture from the Sixes, pop it into a van and drive 10 minutes. No flashing lights, no security detail—just the van, the moving men and Dad. "That's the only way to do it," he says. "Otherwise you call too much attention to yourself."
Six is perfectly at ease around the type of art most people wouldn't dare touch. His childhood home, a 58-room palazzo on the Amstel River in Amsterdam, contained works by Rembrandt, Michelangelo and Frans Hals, as well as Dutch Golden Age furniture and an archive of family history dating to approximately 1023. He is heir to one of the last great European family art legacies, known today as the Six Collection. He is also head of the Old Masters department for Sotheby's in Amsterdam, routinely selling works of art that are nowhere near as valuable as what his family owns.
Rembrandt's Portrait of Jan Six (1654), which depicts the 17th-century merchant and Amsterdam mayor who founded the family collection, is the most significant item in that trove. One Old Master dealer has valued it at $150 million, a figure Six dismisses as far too low. Making its first public appearance since it was completed three and a half centuries ago, the painting is on display through January 13 at the Mauritshuis as part of the exhibition "Dutch Portraits—The Age of Rembrandt and Frans Hals."
The Sixes have kept the collection private for 10 generations. For the past two years, however, they've been renovating their Amsterdam palazzo, and at Six's urging they've allowed the work to travel a little. The Mauritshuis's director, F.J. Duparc, has described the work as "the most beautiful [portrait] in the entire world." Peter van der Ploeg, the museum's chief curator, adds that "what's fascinating is that it's still in the same family it was painted for. It gives it an extra feeling of being an authentic portrait."
Jan Six X, 60, whose full name is Jan Six van Hillegom and who owns a graphic design and publishing company, is currently in charge of the Six Collection. He's always been exceedingly private about the family holdings and doesn't grant interviews to the press. He has, however, brought the collection into the 21st century by creating an archive of digital photographs documenting the more than 100,000 items and self-publishing a book on his family history called The House of Six.
Young Jan, standing at a confident six feet five, will eventually inherit the title of van Hillegom and take control of the collection. His goal is to make the great works available to a broader public, both by welcoming more people to visit the collection in Amsterdam after the renovation is completed next spring and also by loaning the works to the world's great art institutions. "As an art historian, I love art, I dream art, and so I don't mind showing it and sharing it with the world," he says. "I'd love the collection to travel to the Louvre, the National Gallery in London or Washington, to the Frick—everywhere."
At one time the Six Collection included masterpieces such as Johannes Vermeer's The Milkmaid and The Little Street, Rembrandt's Portrait of Saskia in Profile and Jan Steen's The Oyster Eater. But these were sold over the years to pay estate taxes, and now they're in major museums. In the early 20th century the Dutch state made a deal with the Six family, relieving them of inheritance taxes as long as they wouldn't sell any more art and would keep the collection in Holland.
Six would never sell, he says, but he sees no harm in loaning pieces. "I'm a modern person," he explains. "And it's quite abnormal for a modern person to live with a Rembrandt in their living room. Especially when you're a direct descendant of the person in the portrait and there's a facial resemblance—then it's a bit scary."
Actually, at first glance, Jan Six XI doesn't much resemble Jan Six I. Rembrandt's Jan had curly red hair, pocked cheeks and a generous jowl. Contemporary Jan has straight jet-black hair, flawless skin and delicate features. One can find similarities, however, in the nearly kohl eyes and the proud Roman nose.
Although he says he had a normal childhood, playing football in the house with his younger brother, Bas, and throwing wild parties as a teenager, Six also found it scary to be watched at all times by 270 ancestral portraits. "I remember that moment walking down the hallway when all these paintings changed for me," he says. "They were first sort of two-dimensional images of my relatives, and then they became legacies of painters, great pictures that tell stories."
That happened at age 11, he says, and by 13 he was giving tours of the family house. Although not officially a museum, the Sixes informally welcome about 5,000 visitors a year. Among the names signed in their 24 guest books are Czar Alexander II of Russia, John F. Kennedy, Ronald Reagan, Crown Prince Naruhito of Japan and former President Jacques Chirac of France.
It was the personal contact with art that made Six want to pursue a career in the auction business. "At a museum you can't get close to a work without an alarm going off," he says. "At an auction house, you can still touch the objects, look at them up close, see them how the artist saw them."
After receiving his art history degree at the University of Amsterdam, Six interned for Old Master dealer Bob Haboldt in Paris and then at the Amsterdam Historical Museum before joining Sotheby's London five years ago. When he was sent to work in the somewhat sleepy Amsterdam bureau in May 2006, his boss encouraged him to "put it on the map."
He did just that. Last spring he conducted a high-profile sale of what is thought to be the first known painting by Rembrandt's contemporary Jan Lievens. The canvas, titled The Card Players, was signed J.L., but for at least a century its Belgian owners had mistakenly attributed it to Gerrit van Honthorst. Six helped establish that the painting was in fact a Lievens, painted circa 1624 when the artist was 17 years old and sharing a studio with Rembrandt. He sold it at auction for $2.41 million, the highest price ever paid for a work of art at auction in Holland.
Soon after, he was promoted to head of the department, and in December the Amsterdam office will be selling another major Sotheby's score: the personal collection of Robert Noortman, who was the world's leading Rembrandt dealer and died in January. (Sotheby's bought Noortman's Maastricht gallery in 2006.)
Since he's about half the age of most Old Master collectors, Six is often working with clients who have been in the game a lot longer, and he insists he's determined not to just fall back on his pedigree. "I want to prove myself not only as the son of that family," he says, "but also as a person who knows about pictures."
As is the tradition, Six will someday have his own portrait painted. Though his business is Old Masters, Six seeks out emerging artists for his personal collection, and the artist he would like to sit for is the contemporary master Lucian Freud. "I don't know if he'd do it, and I can't pay $5 million," he says. "But I might write him a little letter, saying, 'Rembrandt painted my ancestor; would you paint me?'"