Rated XX: Jane Campion
It has been a banner year for female filmmakers, whose prowess behind the lens showed up onscreen in romantic comedies, war movies and art-house gems. Here, three of our favorite game changers.
---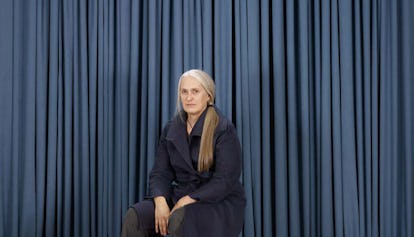 As a fledgling director in Australia in the Eighties, Jane Campion flirted with the idea of making pornographic movies for women. Instead, in a series of largely art-house films, she has probed the dangers of desire and the lives of resilient, occasionally mad heroines chafing at their constrained circumstances. In A Girl's Own Story (1984), schoolgirls practice kissing; in Sweetie (1989), an emotionally disturbed young woman is forever about to erupt. Her most widely known work, The Piano (1993), which won her an Oscar for best screenplay, is fueled by erotic self-discovery, as is In the Cut, her uneven thriller from 2003.
But Campion's latest film is as restrained as they get—and to her mind, all the more alluring for it. Bright Star tells the story of poet John Keats's last two and a half years, when he fell in love with seamstress Fanny Brawne, literally the girl next door, a would-be fashionista who inspired him to write some of his greatest poems. Visually arresting, the film is a portrait of ardor thwarted by class, illness and death—Keats died at 25—seen through the eyes of the feisty Brawne, who was 18 when she met him.
"I found it fascinating that it was so chaste. That's what gives it a lot of haunting strength and what makes it unique," says the statuesque Campion, 55, over tea at New York's Mercer hotel, her long, gray-flecked blond hair swept dramatically to one side. "I think the whole tension about romanticism is the way it builds and builds, and the moment it's consummated, the tension's over. And in this story the relationship never was consummated."
Of course, the tale's real sensuality, says Campion, derives from Keats's poetry and the letters he wrote to Brawne. "How sexy would it be to be the intimate of a poet like Keats, who wasn't just seducing you but telling you the truth as he knew it?" wonders the director, whose conversation—blunt, frank, literate—is punctuated by a ready, sometimes edgy laugh. "He'd say, 'I don't know how I feel about women. I'm confused by my feelings.' Sometimes he'd merely scribble notes that said 'Don't forget to show yourself in the garden. I need to see you' or 'Give me something to put under my pillow tonight.' It's the kind of first love that everybody dreams of but very few of us actually have."
Ironically, it was Campion's aversion to poetry and need to know why it made her feel "inadequate" that led her to Andrew Motion's 1997 biography of Keats. She read the book during the four-year break she took from filmmaking, beginning in 2003, to steep herself in mothering her daughter, Alice, now 15, and recalls being suddenly struck halfway through by what she calls "the innocence and purity" of the Keats-Brawne liaison, by the way it quickly moved from playful, lighthearted banter to the sobering contemplation of "all the big questions." Despite Keats's youth, Campion says, "he'd already realized more or less the point of being here—to understand consciousness—and in a way their love affair and his dying young and how he came to write his best poems is almost everything you need to know about living that's good."
Rather than opt for a straight biopic, Campion chose to focus on Brawne (inhabited fully by Australian actress Abbie Cornish), which allowed her to shoot essentially in one location, since, as a young woman in 19th-century Hampstead, England, "Fanny doesn't go anywhere," says the director. Her muse was Alice, "who I had in my head while writing." She loved Brawne's "galloping maturity," so reminiscent of her daughter's passionate, emotional energy, she says, and in channeling Brawne, she'd imagine what Alice might do. "It's very helpful having somebody there in the real world. Because you go, 'I believe that.'"
Her time off, she says, emboldened her to feel that she could stick to what moved her and still find an audience, something she'd begun to doubt after the poor critical response to In the Cut. "I didn't want to be an artist that too much calculates her popularity or worry that, Oh, people will hate a film like this, it's got a frigging poet in it," says Campion, whose first child died in 1993 when he was 12 days old, just after she became the first female director to win the Palme d'Or at the Cannes film festival. (As of press time, she's also one of only three women ever to be nominated for a best-director Oscar; considering the collective might demonstrated by female filmmakers this year, there's a good possibility she'll soon have more company.) "Tenderness is probably the quality that most moves me."
As a young girl growing up in New Zealand, Campion­ was a "romance addict" whose bible was Wuthering Heights—"the Twilight of its time," she calls it. The daughter of a theater and opera director and an actress who founded­ their own troupe, Campion didn't appreciate her parents' line of work for years. "They'd call each other 'dahling,' and I thought them arty-farty," she says. Her mother suffered from severe depression, and while she and her two siblings "lived on a different planet than the adults and never told them anything," Campion, who is divorced, prizes the close ties she has forged with her daughter. "Just the other day, she told me, 'My friends think it's peculiar that I tell you everything,'" she confides.
As a director, she likewise fosters intimacy with her actors. "On the first day of rehearsal, Jane said to me, 'This film is like my baby, and I'm handing it over to you to hold,'" says Cornish. She recalls how Campion gave her free rein in the film's most wrenching scene—when Brawne learns that Keats has died—for which Cornish drew on her grief over close friend Heath Ledger's death. "She makes you feel that you own the character, even though she created it," the actress says.
Bright Star has been hailed as Campion's comeback, and already she's writing a new murder-mystery TV series, about a female detective who goes in search of a missing 12-year-old girl in a colony of "postmenopausal­ women—what they call the invisible tribe," she says. "There's all sorts of love affairs and relationships in it, but none of them are conventional. There's nobody yearning after the old nuclear family."
And neither is Campion. "I see how joyous it is to be a woman in her 50s—so free," she says. "I don't need anyone to look at me."