Five Minutes with Jane Coxwell
Jane Coxwell, chef to Diane von Furstenberg and author of a new cookbook, offers up a few glimpses behind the scenes.
---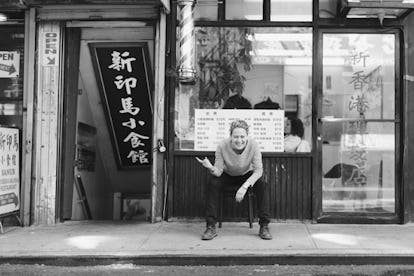 As a princess, the wife of a media mogul and a fashion phenom of more than 40 years standing, it's safe to say that Diane Von Furstenberg has tasted the very best life has to offer, both literally and figuratively. But when it comes to food, her most memorable meals have not been the work of a triple-starred Michelin toque or king of the New York restaurant scene. Her hands-down favorite chef, she says, is an under-the-radar young South African woman named Jane Coxwell who, since 2009, has served as Von Furstenberg's personal chef aboard Eos, her spectacular (and enormous) yacht. Von Furstenberg calls Coxwell "the best cook I've ever met" and "a magician." In the interest of sharing that magic with the rest of the world, she encouraged Coxwell to write a cookbook, Fresh, Happy, Tasty, out today from William Morrow. Full of bright, healthy, accessible recipes—and glimpses of just how delicious and glamorous life is aboard Eos—it's dinner with a side order of voyeurism. Here, Coxwell offers up a few more glimpses behind the scenes.
How did you end up cooking for DVF? After culinary school, I cooked on private yachts for about 5 years and then took a break to work as the executive chef at a winery in the Napa Valley. I loved it, but I decided I wanted to do a bit more learning and traveling right around the time that the job became available on Eos… lucky for me! We've since circumnavigated the globe, and it's been incredible.
What is the most memorable meal you've served aboard Eos? I actually really like the meals that venture just off Eos and on to a beach close by. For DVF's birthday one year, we found a very remote beach in Costa Rica and set it up with tea lights and a bonfire and cooked outside. DVF's birthday happens to be New Years Eve, and there were Chinese Lanterns for everyone to send up into the air. The water was filled with newly hatched baby turtles. There was something really special about that night.
What is the biggest difference between cooking on land and on a boat? On the boat you have to be prepared and very organized—there's no running to the store if you've forgotten something. Space utilization is also crucial. The movement can be pretty strange, too. It's usually very calm but on crossings, it can get a little rough and sometimes I find myself catching produce rolling off the counter, or stopping pots from sliding around on the stove. One great thing is the ever-changing view from my "office" window.
Are there any special challenges involved with cooking for the many members of the fashion world that Diane hosts? The old cliché is that stylists/models/designers survive on Diet Coke and cigarettes. Now it seems everyone is gluten free or on a "cleanse"… I haven't really been exposed to any of that. DVF is my favorite person to cook for. She loves the type of food that I like to make, which is lucky for me. My food is clean and fresh. It's not health food, but I do try and make food that won't make you feel uncomfortable or heavy after eating. I like to think of it as tasty fuel. Especially being on a yacht, you want to make the most of the day after lunch and hike up a mountain or swim, not slow down. DVF loves life, and for that reason, she eats clean, fresh, real food. The people that I've cooked for in the fashion industry seem to like the same, fortunately.
What is your favorite seasonal recipe to cook this time of year? Basically anything green! Anything in the pea family, asparagus, ramps, artichokes… There's a green pea salad with lemon and mint in my book that is perfect for spring.
Photo: Katie Osgood