See Jane Run… and Run and Run
Sex symbol, Oscar-winning actress, fitness queen, and now, at age 77, TV star. Behold the unstoppable Jane Fonda.
Photographs by Steven Meisel
---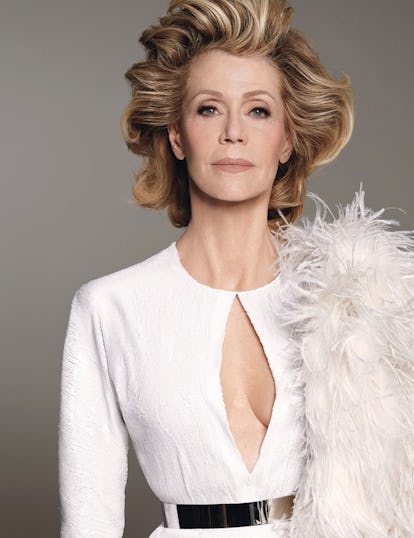 Steven Meisel; styled by Edward Enninful.
"I think it's a hoot that, at my age, people are calling me a fashion icon," said Jane Fonda, who freely admits to being 77, on a beautiful spring evening in Manhattan. She was in her small apartment-like hotel room ("I love to have a kitchen") near Lincoln Center, and she was wearing a chic gray cashmere ensemble consisting of a snug-fitting tunic-length top with long sleeves and legging-like pants that flared at the knee. Her short blonde hair was tucked into a matching gray cashmere schoolboy cap. Fonda had accessorized the vaguely 1970s look with a long gold chain and a large geometric ring that resembled a small planet. Although she says she suffers from osteoarthritis, Fonda has an innate ease in her own body. Perhaps due to a lifetime of ballet and aerobics, she moves beautifully, with no apparent creakiness. Her ramrod posture and lean figure would be remarkable at any age, but for a woman closing in on 80, her presence is staggering.
And that body lends itself beautifully to clothes: At the Grammy Awards this past February, Fonda hit the red carpet in an emerald green Balmain jumpsuit that made the world positively giddy. Not only was the fashion-forward (not to mention sample-size) look straight off the Paris runway, but it also accentuated every curve. Upon encountering Fonda backstage, Rihanna yelled out to her, "Ohmigod! I want to be you when I grow up!"
"I suppose I've always known what I like on my body."
Fonda laughed at the memory. "Isn't it weird? In my dotage!" she exclaimed. "Truthfully, my relationship to fashion has always been strained. When I was starting out as an actress in New York, I worked as a model because I needed to pay for acting classes. But I didn't have what it took to be a model. I hated all the emphasis on how I looked, and I never paid much attention to clothes." And yet, through her high-profile marriages to three very different men (Roger Vadim, Tom Hayden, and Ted Turner) and the iconic roles she has played on the big screen (Barbarella, Bree Daniel in Klute), Fonda has always stood out for her style. Well before Klute, she had cut her hair into a short shag, a look that became her signature throughout the '70s and was copied for decades. And while she gives the fashion credit for Barbarella to Paco Rabanne, who designed the film's sexy space-age costumes, and to Vadim, the director, it was Fonda who ultimately made that movie a style reference point for the ages.
"I suppose I've always known what I like on my body," Fonda told me. "I took one look at that Balmain jumpsuit, and I said, 'That's it!' I'm best when I'm wearing something structured, with no frills or bows. Something that will show my waist and bum, because I've always had a good bum." She pointed to her upper arms. "Now these only come out during candlelight on a very dark evening." She paused. "I'm older now, and I have to be more self-conscious. When you're young, you can get away with more. I always thought that being self-conscious was a negative. But now I feel differently."
Fonda wasn't always this self-aware. One day on the set of On Golden Pond, a film that she coproduced so that she could costar with her father, the legendary actor Henry Fonda, she was fixing her hair when Katharine Hepburn (who played her mother in the film) pinched her cheek and demanded, "What do you want this to mean?" "It was 1981, and I didn't know what she was talking about," Fonda recalled. "Back then, I didn't give my looks a fare-thee-well, and that bothered Katharine. She said to me, 'This is what you present to the world. What do you want it to say about you?' Her question has been lodged in my psyche ever since. I now think what Katharine meant was awareness of a persona. She wanted me to consider how I wanted to be seen. Now I pay attention to how I present myself to the world. I realize that it matters."
Fonda's sense of self—which encompasses everything from hair color to politics—has always been strongly influenced by men. When she was about to turn 60, she decided to put together an autobiographical documentary charting the many and diverse episodes in her life. When she asked her daughter, Vanessa Vadim, to help her, she responded, "Why don't you just get a chameleon and let it crawl across the screen?" The statement stung, but it was accurate: From her father to her husbands (and, presumably, all of the men in between), Fonda has always, to expand on the reptilian metaphor, shed her skin to reveal a whole new identity.
Indeed, Fonda is a survivor; each successive "self" offers a kind of rebirth. Her current incarnation—TV star (her Netflix series, Grace and Frankie, began streaming on May 8), philanthropist (the charity she founded works with underprivileged teenage mothers in Atlanta), and, yes, fashion icon—is as vivid and engaged as any she has left behind. "My interest in what men think about me started with my father," Fonda told me matter-of-factly. "I saw myself in him, and I wanted his approval." When she was 12, her mother committed suicide, and she recalled shutting down emotionally afterward. "I would become whatever I felt the people whose love and -attention I needed wanted me to be," she wrote in My Life So Far, her 2005 autobiography. "I would try to be perfect."
Despite her father's apprehension, Fonda began acting. Her first screen test was in 1959, with Warren Beatty for a film called Parrish, which was never made. It was Beatty's first screen test, too, and he recalled that they "were thrown together like two lions in a cage and kissed until we had practically eaten each others' heads off." Fonda didn't remember the test at all but jokingly said, "I thought Warren was gay. He played piano, and all his friends were gay." She was attracted, however, to Robert Redford, her costar in 1967's Barefoot in the Park. "I was so in love with Bob," Fonda confessed. "Nothing ever happened between us, but he certainly was fabulous to kiss."
Barefoot in the Park inaugurated Fonda's streak as a trendsetter: In her suede ankle booties, narrow corduroys, and camel car coat, she became a symbol of bohemian cool. At that time, she was already in the thrall of Vadim, who had directed her three years earlier in Circle of Love and was famous for his female conquests—Brigitte Bardot, whom he discovered, and Catherine Deneuve among them. Fonda grew her hair long, went blonde, and moved to France. It was the jetset chapter of her life: She and Vadim married in 1965, vacationed in Saint-Tropez, and spent holidays in Chamonix, in the French Alps. Vadim was not faithful, claiming that jealousy was "so bourgeois." To be a good wife, Fonda embraced his passions, including the occasional threesome. "Sometimes it was even I who did the soliciting," she wrote in her autobiography. "So adept was I at burying my real feelings…that I eventually had myself convinced I enjoyed it."
Vadim was also running Fonda's career. He had advised her to play the title role in Barbarella, which was based on a French comic strip. The film has a fantastic lo-fi futuristic look that encapsulated the spirit of the '60s. "I've never done anything like that film, before or since," Fonda told me. "Barbarella was terrifying. And fun. And wild. In the opening scene, I am completely naked. I was so nervous that I got drunk. I was pretty much drunk the whole time. That was Vadim's idea, too!" During the filming of Barbarella, Fonda, who was 30, found out she was pregnant with her first child, Vanessa. When the film was released, in 1968, Fonda appeared on the cover of Life as the most fantasized about woman in the world. Whether she absorbed the role or not, Barbarella had made Fonda a sex symbol.
She upended that image with her next project, the director Sydney Pollack's Depression-era film They Shoot Horses, Don't They?, which centers on a dance marathon that drags on agonizingly for weeks. Sensing that her marriage to Vadim was ending, Fonda knew intuitively that she needed a change. She moved back to Los Angeles. "Neither of us was acknowledging that the marriage was petering out," Fonda told me. "But I suddenly knew I didn't want to imitate Vadim's other women anymore. I said to my hairdresser, 'Do something! I want to look like me again.' "
Fonda's new hairdo—dark brown and short—altered her mood and somehow brought on a new perspective. She took on the role of Bree Daniel, a prostitute, in Klute. And despite her initial reservations about the character ("too cold, too hard"), she won the Oscar for Best Actress and, in a complete reversal of her Barbarella-era persona, collected her award in a sleek black wool Yves Saint Laurent pantsuit. "I couldn't believe that I'd won an Oscar and my father hadn't," Fonda told me. "It was such a strange feeling. I didn't go to any parties. I went straight home."
After Fonda finally split with Vadim, she swore she'd never live with a man again. But in 1971 she met Hayden, a fellow political activist whose passions equaled her own (Fonda was famously arrested en route from an anti–Vietnam war fundraiser in Canada), and she fell madly in love. Seemingly overnight, Fonda renounced her Vadim-period taste. She got rid of her Biedermeier furniture and Roy Lichtenstein rug in favor of wooden cable spools for tables, beanbag chairs, and mattresses on the floor covered with Indian prints. Hayden and Fonda took multiple trips to North Vietnam and got a place together in a then shabby part of Santa Monica. When their son, Troy, was born in 1973, they gave him Hayden's mother's maiden name—Garity—because, bizarrely, they felt that 'Fonda' and 'Hayden' were "too much baggage."
In 1978, Fonda's stepmother, Shirlee, suggested that Jane try an exercise class that incorporated ballet. Fonda became addicted, and she and the teacher set out to launch a business. Jane Fonda's Workout, with the ubiquitous image of her in a striped leotard and leg warmers, was released in 1982. It sold 17 million copies—the best-selling home video of the time—and spawned an industry. Even as Hayden successfully campaigned for the California Assembly using funds from her new company, according to Fonda, he felt the problems in their marriage began when her identity shifted from antiwar radical to fitness queen. "Tom thought I was promoting vanity," she said. "People assume that movie stars are wealthy. But I didn't have money until the workout business took off, and I wanted to back the causes I believed in. I had borrowed money from my father to buy a house, and I was able to pay him back within a year. It was very important to me that my father not think I was a flake. And it was very important to me to have my own money."
Fonda's independence did not, apparently, appeal to Hayden. He had an affair and eventually they divorced. "When Tom and I split up, I wanted to kill him," Fonda recalled. "But a wise woman told me: 'It will take two years, and you'll be friends.' I said, 'No way.' But then we became friends. And I was at Vadim's bedside when he died. No matter how angry I get, I try to stay friends with the men I've been close to."
When it was announced in the press that Fonda and Hayden were ending their marriage, the media mogul Ted Turner called Jane out of the blue. "That very day," Fonda said, laughing. "I was going through a nervous breakdown and couldn't speak above a whisper. I said, 'Call me back in six months.' " Six months later, to the day, he called again.
"I had a vision: I wanted to give a cultural face to older women."
I asked her if she remembered what she wore on their first date. "Are you kidding?" Fonda said. "Absolutely. I wore a very short, very tight black leather Azzedine Alaïa miniskirt and a matching, very revealing top. A wide black belt, black stockings, and six-inch heels. I could have been a dominatrix! I was so nervous—I hadn't dated in 17 years." Turner was smitten. "I've never been looked at that way," Fonda recalled. "He devoured me with his eyes. It had been a very long time since someone had that reaction to me. In those clothes and with Ted, I was very different than the person I had been with Hayden or Vadim. I felt great with Ted. Very liberated."
Once again, Fonda quit her life—and began to live his. She gave up acting, went back to being blonde, got implants, and wore Versace to public events in preparation for her new role as Turner's trophy wife. After dating for two years, they married, in 1991; a month later she discovered he was having an affair. She left him briefly but returned when he promised to be faithful. "Ted and I had a really, really good time," Fonda insisted. "But he likes to move all the time, from one of his houses to another to another. He lives laterally, and I wanted to live vertically: I wanted to stay put, and he always wanted to go." They divorced in 2001. "I was 63," she said. "And my life was about to start over again."
Fonda had kept in touch with many of her friends from Hollywood, and, even before the divorce was final, her former agent, Paula Weinstein, reached out and asked her if she would present at the Academy Awards. She hadn't acted in 15 years, but Weinstein was insistent: "She said, 'Jane, you're going to do this, and Vera Wang is going to design you a gown, and Sally Hershberger is going to cut your hair,' " Fonda remembered. "And when I stepped out to present the award in my strapless satin dress and new haircut, there was an audible gasp. I thought: Oh. Oh, this is new." She paused. "I was so melancholy over Ted, and I realized in that moment that clothes mattered. They could change your mood in an instant. And I thought, I could do this."
And so began the current phase of Jane Fonda. "I realized I didn't have a lot of time left, and I wanted to pay more attention," Fonda explained. "I had a vision: I wanted to give a cultural face to older women." She paused. "I did have plastic surgery. I'm not proud of the fact that I've had it. But I grew up so defined by my looks. I was taught to think that if I wanted to be loved, I had to be thin and pretty. That leads to a lot of trouble." But perhaps Fonda's greatest weakness has also been her greatest strength: She's never stopped working on herself.
To restart her career, Fonda returned to Los Angeles, where she now lives with her boyfriend, Richard Perry, a record producer best known for his work with, among others, Carly Simon and Barbra Streisand. "I have become a foodie," admitted Fonda, who had long claimed to be a terrible cook. "My boyfriend is a foodie, and it has rubbed off on me." She still takes on movie roles—she plays an 80-something diva in Paolo Sorrentino's film Youth, which just premiered at the Cannes Film Festival—but she's increasingly enticed by TV. "Ever since I got old, I have wanted to do television," Fonda explained. "It's much more forgiving for older women." In Grace and Frankie, Fonda and Lily Tomlin play women who get dumped by their husbands after the two men fall in love with each other. "My character asks, as we all ask at various times in our lives, 'What do we do now?!' And the only thing you can do is keep going."
That may be the greatest theme of Fonda's life: "It's called resilience, " she said. "And it's a very mysterious thing. When I was first starting out, I'd go to auditions, and I knew so many of the gals. Half of them were far more beautiful than me, and the other half were far more talented, but none of those women made it. I'd wonder, Why did it happen for me and not them? Now I think it had to do with that core resilience. I was born that way, and they just weren't. On my bad days I say to myself, 'Fonda, you're resilient, and you've never stopped trying to get better.' That's my mantra, and it's saved me many, many times."