Jane Fonda's Wardrobe Is For Sale (Including Her Iconic Leotard)
Jane Fonda is auctioning off some of her best designer gowns and one very iconic–and very '80s–leotard.
---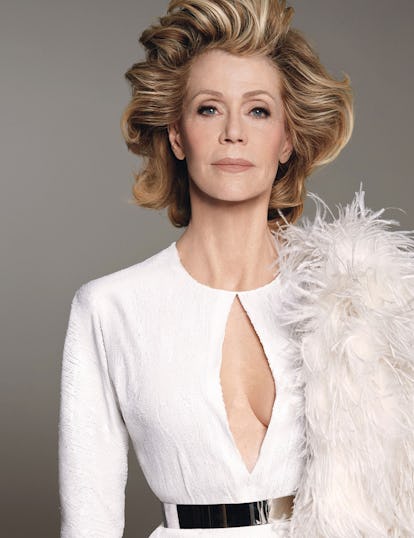 Photograph by Steven Meisel
When Jane Fonda released her eponymous workout video in 1982, she didn't just kick off an aerobic fitness craze amongst baby boomers, she set off an iconic style that would come to define the decade's gym clothing aesthetic. Her iconic red and black striped leotard (paired with tights and legwarmers) were the '80s version of Athleisure, and the influence can continue to be seen in just about every single American Apparel advertising spread ever.
Now you can buy the legendary one-piece. The double Academy Award winner and current Grace and Frankie star is auctioning off a selection of her belongings through Julien's Auctions. The lot includes pieces from Fonda's collection of folk art, two portraits of the star done by Andy Warhol, personal effects, and jewelry, but the real stars of the auction come from her closet.
Aside from the leotard, Fonda is also offering up her 1972 Academy Award ensemble (the year she won for Klute) and a selection of couture gowns from her more recent mature bombshell era.
Here's a look at some of the standouts.
The iconic workout look is expected to go for $1,000 to $2,000. In case you're wondering who to credit with its design, Julien's says the label reads "Stevie Brooks Laguna Beach." Unfortunately, the leg warmers and belt aren't included, but the leotard is in good condition. Fonda herself last wore it in 2011 during an appearance on Kathie Lee and Hoda.
Fonda wore this simple, black Yves Saint Laurent suit in 1972 to pick up her first Oscar for Best Actress.
"I bought this Yves Saint Laurent suit right after I gave birth to my daughter in 1968. I decided to wear it to the Oscars when I won for Klute because I felt it suited the somber times," says Fonda according to the auction catalog. "Besides, I wasn't into buying fancy dresses when the Vietnam war was still being fought."
Fonda's fondness for the house of Versace dates back to at least the '90s. The actress has several customized couture number for sale, like this top she wore to the 12th annual Cable Ace Awards, for sale in the auction.
You can also stay on that '90s nostalgia trend with these Atelier Versace pants.
Here's Fonda in her 1993 Oscar dress, also by Versace. Julien's estimates it could sell for as much as $6,000.
20 years later, in 2013, Fonda would wear Versace again to the Academy Awards. The starting bid on this number is $1,500.
Fonda wore this 2011 dress from Pucci at the Cannes Film Festival.
And here's another Atelier Versace, this one from the 2015 Cannes Red Carpet.
Fonda wore this Vera Wang gown to receive the AFI Life Achievement Award in 2014. It's expected to sell for as much as $5,000.
The auction is set to be held September 23rd. Bids will be taken over the phone and online as well as in person.
Watch Jane Fonda talk about being a fashion icon: