My Top Beauty Discoveries of the Past 40 Years
As W celebrates its 40th birthday, I'd like to pay tribute to what's influenced me the most, listed in order of discovery (and since it is November, what better time for a formal thanksgiving?).
---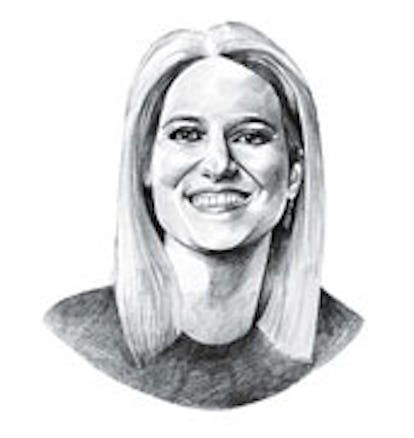 The Buf-Puf (1970s) This coarse sponge from 3M was too harsh for my 14-year-old skin, but it calmed my awful breakouts for a bit—guess which seemed more important at the time?
Accutane (1985) Finally, a product that actually did something about acne. Thanks, Dr. Ronald Sherman, for the prescription.
Erno Laszlo Regular Normalizer Shake-It foundation (1987) What a savior this powder finish was for my oil-slick 20-something skin!
The moment I saw what a streak of bleach could do for my hair, my locks lost their virginity (that's pre-highlighted me, above)—and I never went back.
Bobbi Brown Lipstick (1991) Ivory Girl wannabes the world over rejoiced at Brown's neutral-toned, easy-to-wear sticks in shades including Raisin and Beige.
Issey Miyake L'Eau d'Issey (1992) The first time I smelled this fresh, oceany perfume, I knew I'd found my signature scent. For a while, anyway.
She inspired me to cut it all off. Sure, on some days I may have looked like a golf pro, but I loved the freedom of short hair (above).
Retin-A Micro (2005) You'll never grow old as long as you're getting pimples—or so I (still) tell myself. Fortunately, there's this magic stuff to attack them, as well as other blemishes and wrinkles, and to help prevent precancerous spots.
Illustration: Alexandra Compain-Tissier; Photos: courtesy of Jane Larkworthy