Janelle Monáe's Dirty Computer Trailer is Full of Symbolic Looks You May Have Missed
Don't blink or you might miss these symbolic looks in Janelle Monáe's teaser trailer for her new futuristic concept album, Dirty Computer.
---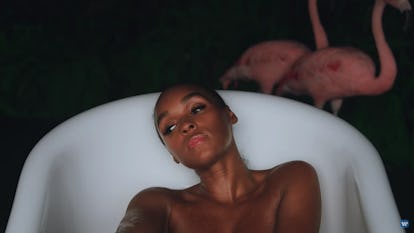 Janelle Monáe/Youtube
Janelle Monáe is back again with another bold vision for the future. On Friday morning, the singer tweeted a link to a teaser trailer for her narrative film Dirty Computer, calling it "an emotion picture." Monáe's "emotion picture" will accompany the release of an album of the same name, and the trailer will be shown in select theaters before screenings of Black Panther during its opening weekend.
It makes sense that Janelle Monáe would choose the opening weekend for Black Panther to unveil the trailer for Dirty Computer, as the film successfully pulls off what the singer also does with her work—bringing deep discussions of Afrofuturism to the mainstream. An official release date for the project has yet to be announced, but Dirty Computer will come five years after the singer's third studio album, The Electric Lady, and will continue the tradition of Monáe's previous concept albums by incorporating themes of Afrofuturism, feminism, psychedelic soul and cyber culture. Themes that are really hard to pack into such a short teaser, but Monáe certainly tried.
There's a lot going on in the teaser for Dirty Computer—the trailer opens with Monáe in a floating geometric pod, intercut with scenes of police violence and nightlife. "They drained us of our dirt, and all the things that made us special, and then you were lost, sleeping, and you didn't remember anything at all," Monáe narrates over the symbolic futuristic visuals. Reading into the teaser, you might recognize the visual nods to the dystopian landscapes of Westworld, The Matrix and Metropolis, or find symbolism in the sartorial cluster of track jackets, see through jeans and neon accessories. At just 32 seconds long, the teaser is a rapid fire procession of images, and if you blink for a nanosecond you might miss them, but we've gone through to compile a collection of the trailer's best looks.
Both Monáe and Tessa Thompson make a few appearances throughout the trailer, but it's hard to tell what roles the two performers play in the short narrative film.
Shades of purple, the color of royalty, trickle their way through the trailer's—in costumes, in nail colors and in backdrops.
The trailer for Dirty Computer is just as much a display of varying natural hairstyles as it is a representation of sporty futuristic fashion.
This look has everything—multiple colors, tickets printed from the Metropolitan Museum of Art, reflective shades and a shiny metallic lip.
These completely see-through rose-embroidered jeans are from Adam Selman's Fall 2017 collection, and the movement in this second-long clip suggest some colorful dance scenes will be included.
This look could be a nod to the chainmail bikini worn by Princess Leia—a leader of the resistance—in Star Wars.
A masked Monáe with a black-and-white headdress may suggest a reclaiming of sovereignty.
[#youtube: https://www.youtube.com/embed/A9k89DYdHKQ]
Related: Janelle Monae Calls Time's Up on the Music Industry at the 2018 Grammys