Janelle Monaé Goes Dystopian in Homecoming Season 2 Trailer
She takes over for Julia Roberts.
---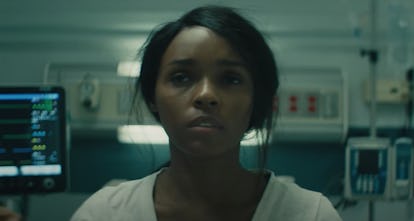 The first season of Amazon's Homecoming lured Julia Roberts to the small screen for her first major television role, but the starriest of movie stars only signed on for a single season. No matter. Homecoming's creepy sci-fi thriller setup lends itself well to something of an anthology format, and Janelle Monaé has stepped up to take leading lady duties for season 2. The just-released trailer gives us some hints as to what she'll be up against.
The main action of the series remains set on the secret medical compound used to treat experimental forms of PTSD treatments. While Roberts played a therapist in season one, Monaé plays a patient suffering from amnesia. In the first seconds of the trailer, her character waked up in the middle of a rowboat in a lake with no recollection of who she is or how she got there.
Stephan James and Hong Chau return from the first season, but the next go-around also introduces Chris Cooper as the mysterious founder of the company that runs the compound. Then, as pleasant a surprise as always, Joan Cusack pops up in full military garb in the middle of the trailer.
Season 2 will return on May 22nd, but if you haven't seen the first, it may be prime social isolation watching. Not that time is of the biggest concern right now, but all the show's episodes run between 37 and 24 minutes, making it a relatively breezy but fulfilling binge.
Related: Janelle Monáe Stars in "Noir Town," Directed by Jordan Peele