Janet Jackson's New Music Video "Made For Now" Is a Joyous Return and Just in Time
Janet Jackson's vibrant new video for "Made for Now" marks the return of a pop icon who knows exactly how to key in to the musical zeitgeist.
---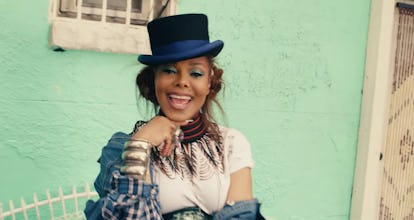 YouTube
It's a day to rejoice, because we have new video from Janet Jackson, who dropped her vibrant clip for "Made for Now" on Friday.
In the last year Jackson has been through a lot—she gave birth to her son Eissa, then separated from her husband Wissam Al Mana, prepared to continue with her international tour months after giving birth, received the Icon Award at the Billboard Music Awards, headlined music festivals in the summer of 2018, and mourned the loss of her father, Joe Jackson. At 52 years old, she's still bopping around stage to intense choreography with hardly any breaks for upwards of two hours on her current tour, performing all of her hits, and looking incredible while doing it.
In May 2017, when she announced that she would be returning to the tour after having her baby, Jackson explained that she would be calling it the State of the World tour (taken from her 1991 single of the same name). "It's not about politics—it's about people, the world, relationships, and just love," she told fans in a video announcement on Twitter. But due to the precarious essence of American politics, her tour (which began in September 2017) ultimately takes a socially conscious stance, confronting police brutality, domestic violence, and homophobia with the set list and visuals. It's very much on par with the social justice wave of the current moment, which is to say, she's proclaiming the necessity of showing appreciation to the cultures around the world that influence the Top 40 singles on the charts.
"Made for Now," the first single Jackson has released since Unbreakable (her 11th studio album, released in 2015) features Daddy Yankee and dancers from Ghana, Nigeria, and Trinidad partying across New York City, from Harlem all the way down to Brooklyn. The video, which takes the viewer on a journey at warp speed, was directed by Dave Meyers, who is known for his work on the videos from Kendrick Lamar's D.A.M.N. ("HUMBLE.," "LOVE.," and "LOYALTY.," featuring Rihanna), Ariana Grande, SZA, and his collaborations with Missy Elliott and P!nk.
When Jackson sings, "Don't stop, 'cause I break those ceilings," she is perhaps referring to the obstacles that women face in the music industry and beyond. At the Billboard Music Awards in May 2018, the singer proclaimed her support of the #MeToo movement, saying, "At long last, women have made it clear that we will no longer be controlled, manipulated, or abused." So it is not out of the realm of possibility that she was inspired to incorporate that message into her latest single.
The track itself is the first one she has ever recorded as an indie artist, after linking her own label, Rhythm Nation Records, with Cinq Music, an indie distributor and publisher. Her lyrics speak to the boundaries placed upon her when forced to choose one genre for her music. With its Afrobeats and reggaeton influences, "Made for Now" is an ambitious track, but remains a saucy celebration of the contemporary moment, with colorful choreography to match, and it should come as no surprise that Jackson is the one to bring it all together.
Related: A Definitive Ranking of Every Will & Grace Pop Diva Guest Star, from Madonna to Cher