January Jones, Kiersey Clemons, and More Prove That,"Everyone Looks Good in a Cape"
W and Burberry hosted a celebration of "The Cape Reimagined" in Los Angeles.
---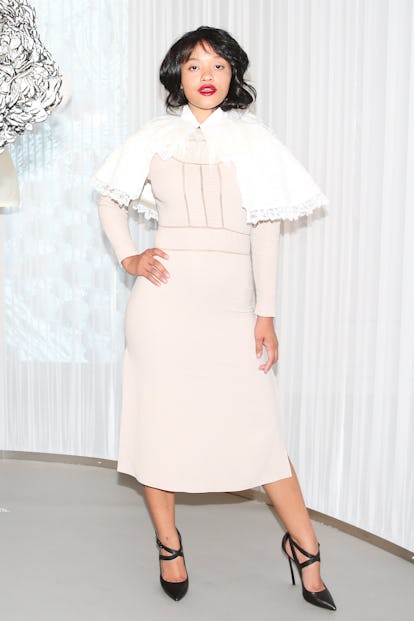 David X. Prutting/BFA.com
On Wednesday night, actresses Kiersey Clemons and January Jones were amongst the guests at W and Burberry's celebration of "The Cape Reimagined", an exhibit of the limited-edition, made-to-order couture capes unveiled at the February 2017 show in London.
"It felt like my wings," said actress Kiersey Clemons of the feathered cape she donned over her tight fitting, sandy Burberry dress. "At first I was like, can I pull this off?" the young star said, standing inside the Beverly Hills flagship on Rodeo Drive. "But I feel good."
The evening's guests included Eva and Asia Chow, Katherine Ross, Beth Rudin DeWoody, Devika Bhise, Gelila Assefa Puck, Bettina Korek, Alex Israel, Eugenio Lopez, Shea Marie, Erica Pelosini, Nikolai Haas, Amanda Steele, Chiara Ferragni and Josephine de la Baume.
"They look like art pieces," said de la Baume of the handmade capes, first displayed as part of "Henry Moore: Inspiration & Process" at Makers House in London. They were individually named ("The Baroque", "The Beaded Feather"…) and inspired by the Burberry archive. "They each seem to be telling a really long, epic story."
"Everyone looks good in a cape," declared January Jones, who was chatting away with W's Editor in Chief Stefano Tonchi, the host for the evening.
She paused.
"I mean, even if you turn a coat into a cape, which I do a lot, a trench into a cape, or you have a legit cape, I think it just adds a bit of drama to an outfit, and if you can have a cape that can be just a cape dress—does anyone make one of those? Oh yeah, Gwyneth Paltrow wore a Tom Ford cape dress once. Yeah everyone loves that. It's just a little bit of drama. It also forces you to keep your shoulders back," she added, standing a little taller.
Jones was in her element – far away from Coachella Valley Music and Arts festival's first weekend.
"I've never gone," she said, shaking her head. "I have no desire. I don't like all those people. Gives me the heebies. I like music though."
For 23-year-old Clemons, it was her second time at the festival.
Last year, she attended with the cast of her breakout film. "Dope was having this extravaganza at Neon Carnival," she said.
This year, she went with her best friends. "To be honest, we stayed in our hotel room until Lady Gaga," she said with a smile. "We missed all the other acts."
The actress was looking forward to her upcoming gig; she was soon leaving L.A. for Fiji to star in a horror, Sweetheart, a Blumhouse production by Sleight director JD Dillard: "I always get told I'm filming somewhere exciting, and then it never happens, it always falls through, so this is the first time, and I'm like, 'hell yeah'".
"We're shooting on an island, so I'll take a boat to work every day," she said. "I can't wait."
And what was she looking forward to tonight?
"Tonight? Sitting down, because my feet hurt," she said, looking down at her sharp stilettos. "That's the God honest truth."
The exhibit, which has been to Seoul, Milan, New York and Shanghai and soon Dubai, will be open to view at the Beverly Hills flagship during store opening hours (10 a.m. to 7 p.m.) until April 30th.
__
Go behind the scenes at January Jones's W cover shoot: