January Release: Jennifer Garner
Jennifer Garner on family, "We just started breeding", Francisco Costa's Private Tour of Rio, Marina Abramovic's Provocative Performance Art, "It's going to be riots!", and a 20-page fashion portfolio
---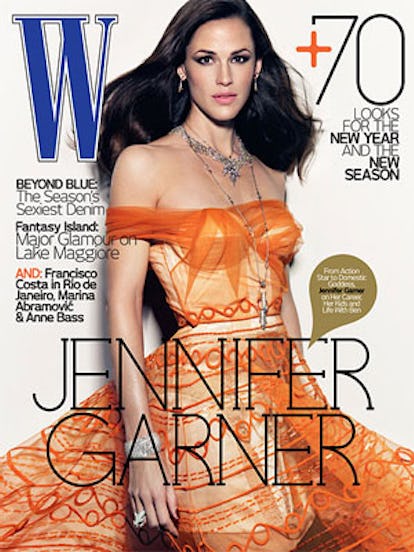 Highlights from the January issue of W magazine are below:
JENNIFER GARNER, ACTRESS–page 86:
Jennifer Garner stars in the romantic comedy Valentine's Day, debuting in theaters February 12th. Now back at work, she shares her double life–career and family–with W magazine:
Garner on the decision to start a family with Ben Affleck: "We were together for a year, and we just started breeding. We were like, 'Let's have a baby!' And eight days later…"
On balancing her career and motherhood: "It's hard because I've taken so much time off already. But I have this internal battle between I need to work, I need to work, I need to work, and I need to be home with my kids. And the kids win."
Garner on her nomadic life this past year in Cambridge, Massachusetts: "I can live with Ben working crazy hours. But I can't live without girlfriends to talk about the men with! It's fine if he's not there; I just need someone to bitch about it to!"
FRANCISCO COSTA, CREATIVE DIRECTOR, CALVIN KLEIN–page 98
W fashion writer Jessica Iredale accompanied Calvin Klein creative director Francisco Costa to his native Brazil, where he gave her a private tour of Rio de Janeiro. Having attended technical college there, he points out the best of what the city has to offer: On his experience riding public buses in Rio, Costa recounts: "It's so tight and on Sundays everyone's in a bathing suit. They go superfast. It's a very interesting ride, let's put it that way."
On Rio culture: "People don't really go to museums in Rio. I shouldn't say it's not sophisticated, but you know, they go to the beach."
Costa and Iredale's jaunt jarred another amusing recollection, that of his friend Marcello, a ballet dancer. "He's actually the first one who told me, 'You're gay, you're definitely gay.' And I said, 'No, I'm not gay.' He said 'Okay, you're Mother Teresa.'"
MARINA ABRAMOVIC, PERFORMANCE ARTIST–page 76:
This spring the Museum of Modern Art is bound to draw some new enthusiasm when it hosts a retrospective of the performance art of Yugoslavian-born Marina Abramovic, with live nudity. On bringing her provocative and often dangerous exhibitions to America, Abramovic exclaims: "This is America! Is going to be riots!"
MORE THAN 70 LOOKS FOR THE NEW YEAR AND THE NEW SEASON–page 46:
W gives readers fashion to look forward to with 20 pages and more than 70 head-to-toe looks of spring's sexiest ensembles–more than 50 designers!–with fluid dresses in buttery beige shading to sharply tailored pieces in moody black. Plus, denim in juicy colors with unexpected details (page 92).
BEAUTY FLASH: PASS THE COLLAGEN–page 30:
Collagen is practically becoming its own food group in Japan, where teas, yogurts and even cheesecake are becoming all the rage. Women are gobbling up the plumping protein in hopes of channeling it to their skin.
The January issue of W magazine is on newsstands nationwide December 15th. For additional information or to schedule an interview with a W editor, please contact Elissa Lumley at 212-286-2225, elissa_lumley@condenast.com or Caitlyn Carpanzano at 212-286-2885, caitlyn_carpanzano@condenast.com.