Jared Leto, at 21, Taught 14-Year-Old Claire Danes How to Make Out During My So-Called Life
"He seemed ancient," she said.
---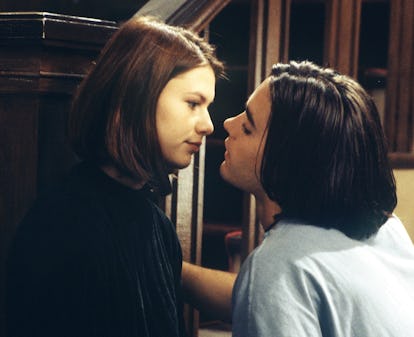 ABC Photo Archives/ABC via Getty Images
The film industry might still have a ways to go before it's a safe and welcoming place for all, but strides have been made. For instance, these days, a 21-year-old Jared Leto having an onscreen relationship with his 14-year-old co-star Claire Danes probably wouldn't fly. But back in 1994, when My So-Called Life aired on TV, it was accepted, and, not surprisingly, Leto had to guide young Danes through their romantic scenes.
"There were these stage directions in that scene where it says 'Angela kisses Jordan's face,' and I was like, 'What? What is that about? Why would she kiss his face?'" Danes recounted on The Howard Stern Show yesterday. "I had that question on set, and he had to try to teach me. It's ridiculous!"
Ridiculous is one word for it. Creepy is another. After the short-lived show, which wrapped in 1995, Danes and Leto kept in touch, although she doesn't consider them to still be close. She does, however, still hold "great affection" for him. As for their uncomfortable age difference in the romantic scenes, the Homeland star felt respected by Leto. To her, he was always "fraternal" and "protective." "He seemed ancient," she said. "He was shockingly good-looking, it was alarming."
Two years ago, Leto opened up about his time during My So-Called Life, relishing in the fact that he was presented as a "lust object." "Oh, yeah! It was about time," he told Rolling Stone, as ET reported. "I'm happy to have taken that, uh, baton or whatever."
Yet looking back, Leto says that as Jordan Catalano, he barely had his bearings. "I feel like it was such a short period of my life," he said. "Let's face it, I barely spoke! I have a lot of gratitude for starting there, but they made such a big deal of the character in the show… I think for some people, especially girls at that time, it mirrored something in their lives. It did make an impact for people, but it's always been so imbalanced with what the experience was for me in my own life."