Jared Leto vs. Jenna Lyons
In case you missed them, here are the top style news stories of the week.
---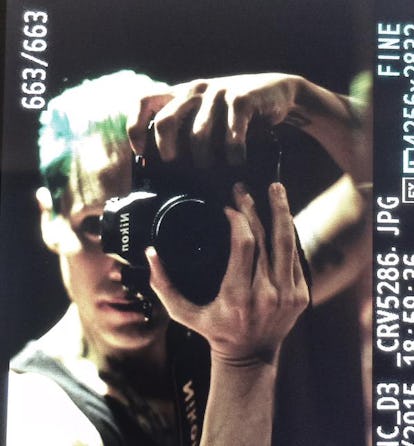 Apple Watch Hasn't even been released yet, but already counts Katy Perry, Drake, Pharrell, Karl Lagerfeld, and Beyoncé as fans.
Armisan, Fred The actor revealed his role in Zoolander 2 sans runway show.
Barnett, Sir John Beyoncé's makeup artist plans to create his own affordable beauty line. It just got a little bit easier to channel Queen B.
Cooper, Bradley Went on a date with Irina Shayk. Has clearly moved on from Suki Waterhouse.
Corden, James The British actor is the new unlikely Burberry muse. Sorry, Suki.
Frederick's of Hollywood Filed for bankruptcy after 7 decades of providing women with lacy, racy undergarments.
Gone with the Wind A dress worn by Vivien Leigh in the iconic film sold at auction for $137,000. Oh Rhett, you shouldn't have.
Hosk, Elsa The model will be the next Victoria's Secret Angel. Has some big Karlie-sized wings to fill.
Kimye Did not find Amy Schumer's red carpet antics funny. Did enjoy wearing coordinating black ensembles.
Klum, Heidi Tries to fill 12-year-old Maddie Ziegler's shoes in the new Sia music video.
Leto, Jared Dyed his hair green, kept it short. What's next?
Louboutin, Christian Expands the concept of the nude shoe to include multiple skin tones. If emoji can, Louboutin can.
Lyons, Jenna Got a haircut, did not go green. Score one for Leto.
Maiyet Revealed the brand's first creative director will be Declan Kearney. Congrats Declan.
Olsen, Mary Kate and Ashley Are interested in appearing in Full House remake. As long as they only have to appear one at a time.
Pejic, Andreja The transgender model is the new face of Make Up For Ever. Forever.
Salman, Tamara The former Liberty of London creative director launches an eponymous accessories label. Yes, all the leather pieces are covered in prints.
Starbucks Hosted a Frappuccino-themed fashion show in Japan. Who knew product placement could be so sweet?
Survey Says Turns out, according to a new study by the University of Maryland, there is such a thing as being too good looking. Score one for Zoolander.
Thakoon Is the newest designer to do a collection for Kohl's. Obviously trying to relive his Target glory days.
Topshop Released a second collaboration with Adidas. We dare you to try and count the logos.
Vestiaire Collective The online e-tailer is selling the most expensive bag on the Internet: a $208,650 pink crocodile Hermes bag. Kanye, you listening?
Whitney Museum The new museum isn't even open yet—but Max Mara has launched a bag inspired by the building. Now that's contemporary American design for you.
Williamson, Matthew The British fashion designer announced plans to shutter his London store and focus on online… and attending cool parties.