Jared Leto on Masculinity Today: "I Think It's Completely Subjective"
The actor opens up about his friendship with Gucci's Alessandro Michele, and his role as the face of the designer's first fragrance for men.
---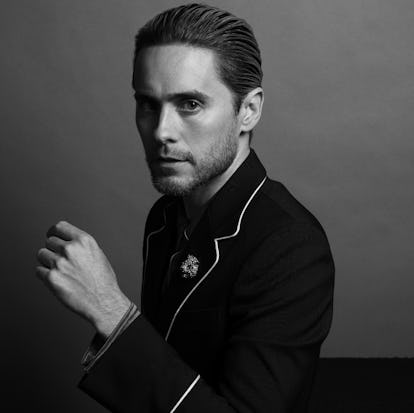 Photo by Inez van Lamsweerde and Vinoodh Matadin. W Magazine, February 2016.
Since becoming the creative director of Gucci in 2015, Alessandro Michele has become somewhat of a pop culture phenomenon, with his long black hair, eclectic Instagram account, and celebrity groupies, which include everyone from It girls Petra Collins and Hari Nef to actors Dakota Johnson and Jared Leto.
"You know, it's wonderful to work with someone like him [Alessandro] because he's not only an artist and a real maverick, but a really kind person as well," Leto said, looking out of a hotel room window in London. "We have a lot of fun together. He's incredibly warm and generous and funny."
Leto was in London for the 2016 British Fashion Awards, where Michele was receiving the International Accessories Designer award. Leto was presenting the designer with his award, and celebrating his new gig as the face of Gucci Guilty Absolute, Michele's first fragrance for men, at the same time. Having just arrived from filming in Japan, Leto was tired, but looked cool wearing head-to-toe black and lace-up leather boots, with his dyed hair framing his face in piecey chunks.
It's an androgynous look that is aligned with Michele's vision for fashion. Leto is obviously on board. "The nice thing about masculinity today is there really isn't any definition but the one you would give it yourself. I think it's completely subjective," the actor explains. "We don't have to live up to anyone else's idea of what that is, and that's great." That message applied to Gucci Guilty Absolute, which aptly smells of leather, with hints of patchouli and vetiver. Although he's a longtime vegan, the leather scent doesn't bother Leto. "I'm not the world's best vegan," he laughed. "I just had some pumpkin cake today that I was fairly certain had a pound of butter in it."
Jared Leto Reveals His Crush on Grace Kelly