Jared Leto and Margot Robbie Will Star in Their Very Own Joker and Harley Quinn Movie
The Suicide Squad sequel you didn't know you wanted.
---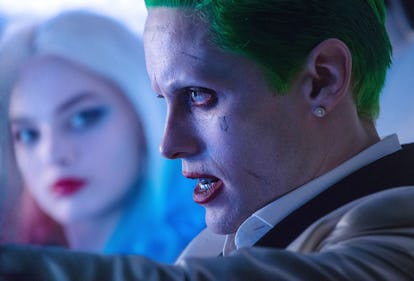 Warner Bros./Everett Collection
Because Hollywood definitely heard all of the rapturous cries from fans for a Suicide Squad spinoff, Warner Bros. has announced this week that a Joker and Harley Quinn stand-alone film is currently in the works, with Jared Leto and Margot Robbie set to reprise their roles as the conniving villains.
Variety reports that the film is being teased simply as a "criminal love story," noting that the studio wants to expand their super- and anti-hero film slate to something that doesn't only revolve around Batman and Superman. (Especially with all of the Batman drama going on with Ben Affleck at the moment.)
But perhaps most interestingly, the brains behind the operation will be none other than the duo who write and executive produce the soapy drama This Is Us, Glenn Ficarra and John Requa, which means this is the first time they'll be helming such a large tentpole film — and one outside their usual genre comfort range — to boot.
Scratching your head a little bit about why exactly the Joker and Harley Quinn are getting their own spin-off? Despite Suicide Squad receiving savage reviews upon its release last year, the film actually performed incredibly well at the box office, proving there's an appetite for an anti-hero romp that's equal parts disruptive and disturbing. Since its release, there have already been announcements of a Suicide Squad 2—unsurprising, really—in addition to the female-lead Gotham City Sirens, which will solely feature badass villains such as Poison Ivy, Catwoman, and yes, Harley Quinn.
There's no release date set for this untitled Joker-Quinn extravaganza yet, but Variety points out that Warner Bros.'s packed slate of superhero films, such as Aquaman and Wonder Woman 2, might keep it from getting to the big screen for quite a few years. In the meantime, laugh evilly and carry around a baseball bat?
Related: Wonder Woman Illustrator Nicola Scott Is Not Afraid to Female Gaze Her Male Characters
"Wonder Woman" Star Gal Gadot Was a Very Reluctant Pageant Queen