Jason Butler Harner
The New York Theater veteran takes to the big screen with a frightening star turn.
---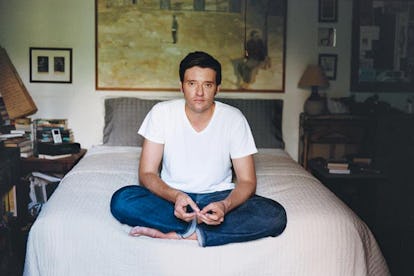 For the time being, actor Jason Butler Harner can walk the streets of New York unmolested. On a sunny afternoon, as the boyish 38-year-old digs into a bowl of peanut butter and chocolate chip ice cream at Blue Marble, a Brooklyn ice cream parlor owned by an actress friend, not a single person approaches aside from an errant toddler. Last fall, though, paparazzi were training telephoto lenses on him, and helicopters perpetually circled overhead. "People were running up to me and taking my picture," he says, looking out bashfully from under a lock of brown hair. Such is life when one's costar is Angelina Jolie.
The two face off in Changeling, directed by Clint Eastwood and based on a true story that rocked Los Angeles in the Twenties. Jolie plays the mother of a missing boy, and Harner appears as his possible murderer, the pedophile and serial killer Gordon Northcott. The actor, who spent the past decade making his name on the East Coast theater circuit alongside friends like Martha Plimpton and Josh Hamilton, landed the plum role after a single taped audition. "It was a part a lot of well-known guys wanted, but I think Clint saw more depth and variety in Jason," explains casting director Ellen Chenoweth. "He was able to project a slight craziness without doing Charles Manson."
Performing was not something that Harner, who's descended from a line of plumbers and carpenters, aspired to while growing up in Alexandria, Virginia. "If there is a carpentry gene, I have that," he jokes, gesturing to the benches he crafted inside this very shop. He was president of his high school drama club but spent his time building the boards rather than treading them. "I didn't have the self-esteem to act," he recalls. Things changed when he enrolled in Virginia Commonwealth University's theater program. An apprenticeship at the Actors Theatre of Louisville, in Kentucky, followed, and then a move to New York, where he supported his stage habit by working as a Spirit Cruises phone operator, a Spanish translator and a front-desk clerk at a Hilton before enrolling at New York University's Tisch School of the Arts graduate acting program.
Since graduating, Harner has earned an Obie award for his performance in Hedda Gabler at the New York Theatre Workshop; tackled the role of Ivan Turgenev in 2007's epic Tom Stoppard trilogy The Coast of Utopia at Lincoln Center; and played opposite such stars as Annette Bening and Alfred Molina. But the transition to film proved to be a steep learning curve. "Onstage, you are just so much more in control," says Harner. "With Clint, it's just one or two takes—it happens so quickly."
Luckily, Harner is well known among his peers for meticulous preparation. "He researches every part as if he's studying for the bar exam," attests his self-described best friend, actress Amy Ryan, who also appears in Changeling. "We stayed at the same hotel [during production], and his room was loaded with books on the film's subject matter," she adds. "He even found discrepancies in the time line of our script."
"I like to do an intense amount of research and then just throw it all out the window and play," explains Harner. His spontaneity even prompted him to give Jolie an unscripted kiss during the filming of a climactic argument. "She hit me," he says, still shocked by his own audacity, "which was perfect for the scene."
But Harner became haunted by other scenes, like the one for which he spent a night chasing child actors through the desert with a shotgun. After filming Northcott's hanging, "I had a mini breakdown," he says. "Playing somebody as horrible as that—my family understands what acting is, but to see your loved one handcuffed with a bag on his head and a noose around his neck…. I just thought, My mother is going to freak out."
Hopefully she'll recover when her son starts collecting accolades for his performance. As for Harner, who will also be seen in the remake of The Taking of Pelham 1 2 3 with Denzel Washington and John Travolta, he's just savoring his lucky break. "I couldn't imagine acting in film until five years ago," he says. "Now people are asking me, 'What [other roles] are you interested in?'" And there's another not-to-be-overlooked boon to his recent entrée into film: "It's helped me not have to worry about money for the summer."