Jason Rhoades: Four Roads
The American artist gets his first museum survey stateside.
---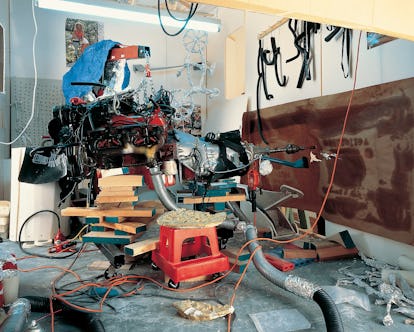 In the seven years since Jason Rhoades passed away, at the age of 41, the Los Angeles artist's overwhelming installations have taken on near mythic status. However, it is only now that Rhoades, who during his lifetime was far more beloved in Europe than in the states, is getting his first museum survey here.
Jason Rhoades: Four Roads, which opens Wednesday at the Philadelphia Institute of Contemporary Art, takes over the entire museum with four massive works investigating four different aspects, or roads, of his practice. The show begins with the dense, chaotic gearhead tableau "Garage Renovation New York (CHERRY Makita)," (above) one of Rhoades's most well known works first shown at David Zwirner gallery 20 years ago. Next up is the 1998 piece "The Creation Myth," a sort cityscape built from scrap wood, folding tables, buckets and mirrors; a toy train outfitted with a fake snake and a live-feed video camera navigates the piece, its findings are projected on monitors. On the museum's second floor you'll find "Sutter's Mill," an aluminum pipe replica of a sawmill, and "My Madinah: In pursuit of my ermitage…," a sublime towel-strewn installation illuminated by a constellation of sexually-charged neon signs. As curator Ingrid Schaffner points out, each one of these works was once a museum show in its own right, "So this idea that Jason had of all the work being one work is really being put into motion here," she says. "You've got all this stunning, colorful neon being reflected from the metal poles and when you're downstairs in "Creation Myth" you look up and see the glow of "My Madinah" pouring over the balcony…one thing is leading to the next, and the work is very alive."
Jason Rhoades: Four Roads is on view September 18 through December 29. icaphila.org