Work in Progress
The photographer Jason Schmidt catches artists in the act for a new book.
---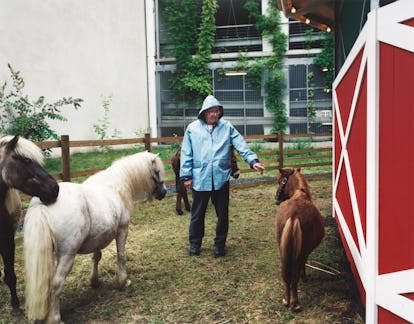 Jason Schmidt's intimate portraits of artists at work—serenely painting in a spartan Brooklyn studio, "re-skilling" Olympic gymnasts for a performance at the Venice Biennale, or traversing a desolate lava field in Iceland—offer rare glimpses into a process that is often overshadowed by the final product. These images are occasionally posed but never staged. Schmidt is a keen observer who readily admits that the best shot is often the one framed by the studio door.
Over nearly two decades, he has photographed more than 500 artists—some of them for this magazine. In 2007, 131 portraits were presented in one covetable, voyeuristic volume, Artists (Steidl/Edition 7L), edited by Schmidt's longtime enablers Christopher Bollen and Alix Browne (W's Features Director); this month, the follow-up, Artists II, offers 166 more. If the book's plain linen cover and classic design bring to mind H.W. Janson's History of Art, that is intentional. Schmidt's ambition is partially encyclopedic, and he just launched a website cataloging this ever expanding body of work.
Some of Schmidt's subjects are larger than life; others are lesser known. In Artists II, one finds the hypnotic face of James Turrell surrounded by infinite dark space, the late Mike Kelley herding live ponies at his petting zoo installation in Münster, Germany, and Terence Koh at rest in his blinding-white office in New York. "The week after that shoot, I received a piece of art in the mail from Terence," Schmidt recalls. "It was a blank piece of paper with his signature at the bottom."
In his typically self-effacing way, Schmidt is ultimately happy to let the artists, each of whom contributed a brief text that accompanies their portrait, have the final word: "The Experiment resembles a surrealistic Garden of Eden gone wrong" (Nathalie Djurberg); "I don't normally sit like this. I'm wearing my mom's jeans" (Ryan Trecartin); or, as Isa Genzken simply states: "Halleluja."