Jason Wu Has Perfected His Beauty Routine
The American fashion designer cuts his own hair and has an emphasis on stellar skincare.
---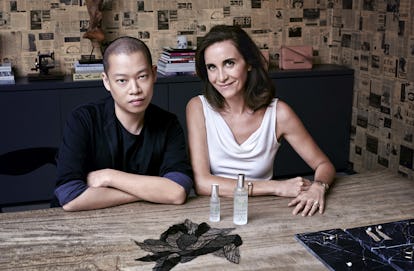 In 2007, fashion designer Jason Wu presented his first collection at New York Fashion Week. Since then, he has dressed everyone from Michelle Obama to Diane Kruger, become the Creative Director of Hugo Boss, and made ladylike styles cool again for women everywhere. This week, at a celebration of his collaboration with Caudalie in the Hamptons, Wu explained how he unwinds, the beauty products he can't live without, and more.
Where are you traveling this summer? I've been spending my summer taking mostly weekend trips as I'm prepping for two shows. I love visiting friends in Bellport, the Hamptons and Connecticut.
Where do you get your hair cut? I cut my own hair.
Describe your daily grooming routine: I use the moisturizing mask almost every day and deep cleansing exfoliator every week. I think maintaining great skin is the most important part. What's in your medicine cabinet? Palermo Fragrance by Byredo, and the Caudalie Beauty Elixir. I also like Sisley Paris skincare.
And in your shower? I use Aesop Shower Gel and Shampoo and the Caudalie Instant Foaming Cleanser. What was your first cologne experience? My first fragrance discovery was Grey Flannel by Geoffrey Beene. It's a perfume from the '80s that jump started my obsession with gray flannel material and was the inspiration for the name of my new sister label GREY Jason Wu. Is there a fragrance that melts you? Is there a moment or memory attached? The Byredo 1996 Eau de Parfum by Inez and Vinoodh is beautiful. They gave it to me for Christmas and I think it really captures their personalities so well. Are there any women's products you frequently borrow? SK-II sheet masks. Are there any women's products you envy? I love makeup. It's so pretty and I think the colors are always inspiring.
What beauty look do you love? I love a bold red lip.
Women's products—or beauty rituals—you pity? Waxing!
What celebrities have the best skin? Pharrell is ageless, and of course, Diane Kruger.
Watch W's most popular videos here: