A Pandemic Miracle: An IRL New York Fashion Week Runway Show
Complete with street style, star-studded casting, and Leigh Lezark.
---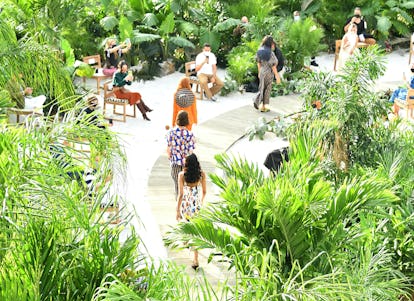 Mike Coppola/Getty Images For NYFW: The Shows
After bearing the brunt of the first wave of the COVID-19 pandemic, New Yorkers are seeing their city settle into some semblance of a new normal. This week they'll also see the resurrection of New York Fashion Week—a process that began on Sunday night, with Jason Wu's spring 2021 runway show atop Spring Studios. Its theme—escapism—couldn't have been more fitting.
"I wanted to create a collection that reminds me of the bright, tropical hues that recall so many happy memories," the designer said. He was speaking specifically about his "home away from home," Tulum, but could just as easily have been describing how his guests felt witnessing its reveal. To Mickey Boardman, who hadn't attended an in-person show since February, Wu's presentation was "a wonderful morale boost." Though the pandemic wasn't entirely escapable: His reunion with the Fashion Week security crew was "minus the dear, departed Tom Carney," the beloved security guard who died of COVID-19 earlier this year.
Boardman is a Fashion Week regular, and he wasn't the only one in attendance. Leigh Lezark, of The Misshapes and front row fame, also came through, posing for street style photographers outside of IMG's usual cavernous venue. So did many of the show's 30 or so models, including Grace Elizabeth and Hanne Gaby Odiele. There was even a bit of surprise casting: The Pose actor Indya Moore opened the show, marking her New York Fashion Week runway debut.
Midland handled the casting, while another industry favorite, Holli Smith, did the hair. Meanwhile, the photographer Kevin Tachman documented it all backstage. In fact, there wasn't so much a notable absence as a notable addition: Lowe's. The home improvement store "lovingly donated" the trees that lined Spring Studios's rooftop, helping maintain distance between guests. (Wu and Lowe's will pass them on to a local garden center, while the show's furnishings and home décor will help create "a beautiful new dining room" for the Gay Men's Health Center.)
So, were the models, photographers, publicists, journalists, and editors in attendance actually safe? Wu's team certainly did their best to ensure they were. Attendees had their temperatures taken, filled out health forms, and covered up with face masks. They maintained distance in the elevators up to the rooftop, where the 36 people who watched the show sat six feet apart. Perhaps most importantly, the show took place outdoors.
Monse and Rebecca Minkoff will also show on top of Spring Studios in the days to come. Christian Siriano also has IRL plans, though for all the way off in Connecticut. These are the anomalies. Virtually all of those on the official spring 2021 calendar will show virtually. (Or present "digital activations," to use the CFDA's words.) And that's just the beginning. Fashion Month marches on through October 6, with IRL Chanel and Louis Vuitton shows on the eighth day of Paris Fashion Week as its grand finale.