Jay Gatsby's Fantasy Mansion Hits the Market for $250 Million, Becoming Most Expensive House in the Country
The Los Angeles home comes complete with an art collection, Hermès pillows and a garage full of exotic cars.
---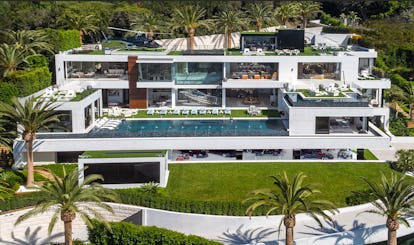 924belair.com
What would expect out of the most expensive home in the United States? A pool with views for starters. A home theater is probably a given. A bowling alley? Why not? That, however, is only a small fraction of what comes with the record-setting Beverly Hills residence that just listed for $250 million. The estate, which is more of a resort than a single family home, comes with more amenities than most five-star hotels offer—and, if you don't happen to boast a bank account that can support the down payment, you're far from alone: Only around 3,000 people worldwide can afford it, as the developer Bruce Makowsky told The Hollywood Reporter. Forget the one percent. That's the 0.00004 percent.
So what else goes into the country's most expensive home? 38,000 square feet, to be exact. Plus, outdoors, there's another 17,000 square feet just in decks. Sprawled out across that footprint is 12 bedrooms, including two master suits, and an incredible 21 bathrooms because for that kind of money it would be a crime to ever have to wait to use a bathroom. The property also includes six bars, because, when your home is the world's most expensive—and you're living at the tip-top of a hill—who would ever want to leave?
With a home Jay Gatsby himself would be jealous of, there's plenty of other features to ensure you'd be able to throw the nation's most decadent house party. The home comes equipped with a bowling alley—and you can bet it doesn't look like your local run-down one. With cowhide chaises and a wall of gold pins, it looks more like the VIP lounge at a club. But, of course, the home has its own VIP area: a velvet rope sequestered lounge area with leather couches and swivel chairs. Other party areas include a full-blown home theater, inspired by—what else?—James Bond. In the theater alone there are 40 reclining seats—dressed up in Hermès pillows and blankets, naturally—57 speakers, 16 subwoofers, and 7,000 preloaded movies into the four-karat gold projector.
Aside from saving you trips to the movie theater, bowling alley, and spa—with its own mini version—the home also ensures you never have to make any late-night munchies runs as it comes with, perhaps the crown jewel, an entire wall of candy dispensers positioned in front of four glass foosball tables.
Life at 924 Bel Air Road also means that you can scale back your visits to the art museum as you'll be living within one. Throughout the home there are an astounding 100 art installations, which includes an oversized Leica camera.
Perhaps the one thing that justifies the price tag more than anything though is the 12 rare, high-end cars that come parked in the garage, which total to $30 million.
Watch W's most popular videos here: