Jay Z Chooses Gold Over Blue
In case you missed them, here are the top style stories of the week.
---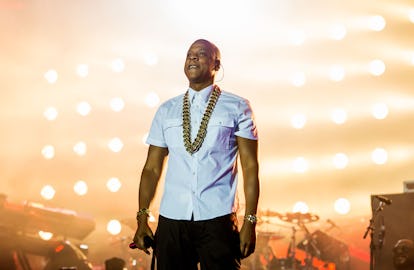 Anderson, Pamela Finally ditches her Baywatch locks for a pixie cut. It's about time.
Bailey, Christopher Received the Hall of Fame honor at the WGSN Global Fashion Awards. Much deserved.
Beyoncé Didn't really photobomb a fan's selfie. But kind of did.
Chopra, Priyanka Is now the first non-white face of Guess.
de la Fressange, Inès Teamed up with Uniqlo for a collection. What does Karl have to say about that?
Degeneres, Ellen Dressed up as Nicki Minaj for Halloween; demonstrates anyone is capable of mastering the under boob look.
Dinnigan, Collette Leaves fashion; disappoints the entire Australian fashion industry.
Galliano, John Is the inspiration of a new play, based on his memorable Charlie Rose interview.
Jay Z Rejected 3,200 fragrance names before choosing Gold. Those that were cut include: Silver, Gray, and Blue. (Sorry Ms. Ivy!)
Kardashian, Kim Has worn four white dresses since announcing her engagement, says People magazine, in an attempt to convince fans that her marriage this time is, like, real.
Klum, Hedi Dressed as an old woman for her annual Halloween bash; offended fewer people than she did that time she dressed up as the Hindu goddess Kali.
Kroes, Doutzen Admits that she feels guilty about being beautiful while taking the blame for teenage insecurity. Such is the trying life of a Victoria's Secret Angel.
Lagerfeld, Karl Is being sued by curvy women. Free speech, no?
Lively, Blake Is the new face—and, lets be honest, hair and body—of L'Oréal Paris.
Ora, Rita Is now designing a collection for Adidas. Continues to make Azealia Banks jealous.
Schwab, Marios May be secretly designing Maison Martin Margiela. Sneaky, sneaky!
Scott, Jeremy Was named the new creative director of Moschino. Sorry, Rossella Jardini.
Washington, Kerry Might be pregnant. Stay tuned for the chicest maternity wear.