Jean Colonna: Raw Talent
Revered in the '90s for his glam-grunge aesthetic, the cult designer makes a welcome return to the fashion scene.
---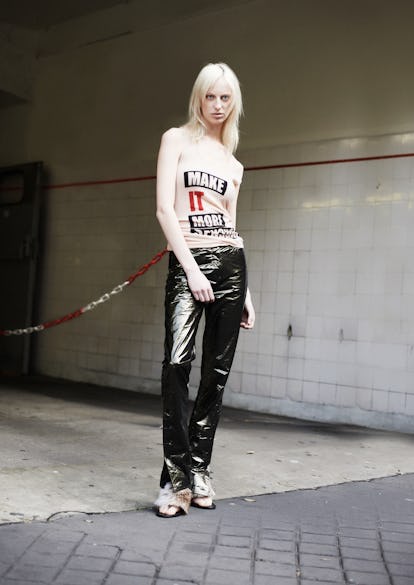 With all due respect to Jean Colonna, ____who doesn't care much for nostalgia, the pre-Internet early '90s was a golden age of fashion. Intimate and ardent, the period gave rise to the stripped-down, self-effacing look of Minimalism; and Colonna, an Algerian-born, Paris-based designer who came up alongside Helmut Lang and Martin Margiela, championed a seductive, rough-and-tumble iteration. Slinky jersey tops, low-slung polyester snake-print trousers, leatherette jackets that looked like they had been turned inside out—his clothes assumed a perverse artistry that was echoed in his runway shows. For his spring 1996 collection, which was inspired by the work of the photographer Nan Goldin, he staged what The New York Times called a "splendidly evocative" shabby-hotel set, complete with faded wallpaper, an unkempt bed, and a droning TV, while models in mock turtlenecks and PVC pencil skirts emerged from a doorway veiled by beaded curtains.
Wanting to explore various creative outlets, Colonna went on to work with Goldin, as well as with Jeff Burton, Juergen Teller, Bettina Rheims, and David Sims—all nascent artists at the time—on a series of film and photographic projects that placed his clothes in fittingly provocative environments. And then, in 2002, he closed up shop. "Fashion became 'More is better.' And I've always believed less is better," explains Colonna, who, 25 years after launching his line, has quietly re-emerged, his low-key, sex-driven aesthetic still intact. "I have the same respect and vision for women," he says. "The challenge this time around is offering a more global story." For the king of inferior fabrics, that has meant upgrading to more-luxurious materials, like a sheer, filmy cashmere that he spent two years perfecting with a factory in Nepal. He had stumbled upon the craftsmen while on a spiritual journey to the region, and it was only after developing the knit that the designer, who for the past four years has been the creative director of the Korean megabrand Kolon Sport, decided to make some clothes under his own name again.
For spring, Colonna has fashioned that cashmere into tank tops and sweaters in shades of nude and Army green and paired them with reissued pieces from his archives, like shiny polyethylene pants and fur sandals. "'Lazy fashion' is more or less my approach," he jokes. It is a testament to the modernity of his vision that the clothes still look incredibly cool and now. "There's nothing new in 2015," he reasons. "Just a new way to make it."
Colonna initially planned to sell the line exclusively on his website and in a pop-up shop in Paris's Marais district. But fashion does love a comeback, especially by someone as seminal as Colonna. This season, Takashimaya in Tokyo and Mameg in Beverly Hills have picked him up, and the pop-up, which is located, in a curious twist of fate, right across the street from a Helmut Lang store, is now permanent. "I'm happy that people have such good memories of me," he says. "But what's past is past. What interests me is tomorrow."
Photos: Jean Colonna: Raw Talent
Jean Colonna. Courtesy of the designer.
A look from his spring 2015 collection. Photograph by Emanuele Fontanesi; styled by Mari David.
A look from his spring 2003 collection. Photograph by Dominique Maitre/WWD.
A Colonna image by Jeff Burton, 2000.
Model Jaime King at Colonna's showroom, photographed by Nan Goldin, 1997.
Hair by Marion Anee for Bumble and Bumble at Airport Agency; Makeup by Eny Whitehead at Calliste; Photography Assistant: Fiona Torre.