See the Strange, Wildly Imaginative Beauty of Jean Schlumberger's Jewelry
A new exhibition at the Virginia Museum of Fine Arts offers a look at 142 of the designer's inventive creations.
---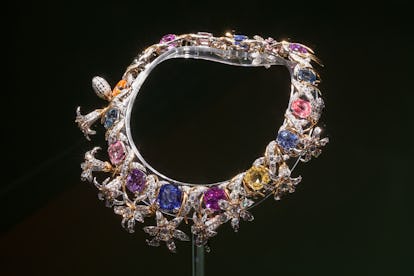 Photo by David Stover/Virginia Museum of Fine Arts
While the fashionistas are at New York Fashion Week, the real jewelry connoisseurs will be heading to Richmond, Virginia this weekend to see the collection of 142 Jean Schlumberger-designed pieces from the socialite and philanthropist Rachel Lambert Mellon's personal collection. On display for the first time at the Virginia Museum of Fine Arts, the exhibition, which runs through June 18, offers an extensive look at the bold, inventive and whimsical creations designed by one of the most famous jewelry designers of the 20th century. (In addition to Mellon, his notable patrons included Jackie Kennedy, Elizabeth Taylor and Audrey Hepburn). Featuring work from his time at the house of Tiffany in the 1950s and 60's, as well as personal objects custom made for Mellon, the spectacular show includes such eye candy as an amethyst, emerald, diamond and terra-cotta Flower Pot (honoring Mrs. Mellon's green thumb), a Lapis "Bird on a Rock" Tiffany brooch, and an emerald, sapphire and diamond cross.
Photo by David Stover/Virginia Museum of Fine Arts
Photo by David Stover/Virginia Museum of Fine Arts
Photo by David Stover/Virginia Museum of Fine Arts
Photo by David Stover/Virginia Museum of Fine Arts
Photo by David Stover/Virginia Museum of Fine Arts
Photo by David Stover/Virginia Museum of Fine Arts
Photo by David Stover/Virginia Museum of Fine Arts
Photo by David Stover/Virginia Museum of Fine Arts
Photo by David Stover/Virginia Museum of Fine Arts
Photo by David Stover/Virginia Museum of Fine Arts
Photo by David Stover/Virginia Museum of Fine Arts
Photo by David Stover/Virginia Museum of Fine Arts
Photo by David Stover/Virginia Museum of Fine Arts