Shrek's Theater Queen
Composer Jeanine Tesori returns to Broadway with a big green ogre.
---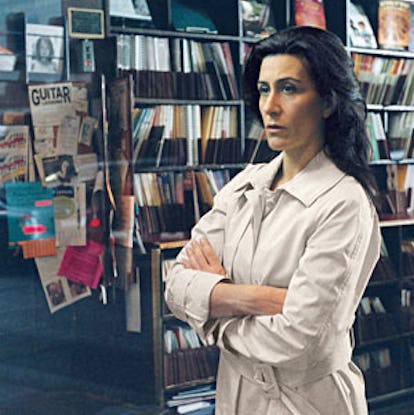 Having been nominated for three Tony awards and having worked with some of the world's most distinguished playwrights, including her frequent collaborator, Tony Kushner, Jeanine Tesori is one of the busiest and gutsiest composers in the theater. But as an undergraduate at Barnard, when she was still premed and thinking she would end up a doctor like her father, she didn't know her South Pacific from her Oklahoma!
Brian d'Arcy James as the title character in Shrek The Musical.
"I thought Gypsy was a musical about Eastern Europe," Tesori, 47, recalls good-humoredly. "I was so naive about the world." A stint on the staff at Stagedoor Manor—a storied theater camp in the Catskills in upstate New York—brought her up to speed and changed her direction. She was always musical (she had taken up the piano at age three), and after two summers teaching show kids, including directing Jon Cryer in The Pajama Game, she switched her college major to music and never looked back.
"At the time my father asked me, 'Will anyone ever pay you?'" Tesori says, adding that it was a question he posed to her regularly after she entered the business. Then he suggested she get a degree in education as a backup. (Her mother also worked in the medical profession, as a nurse.) "I wouldn't do it," says Tesori, who grew up on Long Island. "If you have a net, you'll probably use it."
These days, with still no net in place, she's heading to Broadway with her biggest project yet: a multimillion-dollar stage adaptation of the animated movie (and 1990 William Steig picture book) Shrek. The film is known for its big rock 'n' roll songs, supplied by bands such as Smash Mouth, but Tesori contributed all new music to the production; the book and lyrics are by Pulitzer Prize–winning playwright David Lindsay-Abaire (Rabbit Hole).
A big green ogre running amok in a make-believe kingdom, with a donkey as his sidekick, may seem like something of a departure for Tesori, who is perhaps best known for her intimate character pieces. She was last represented on Broadway by Caroline, or Change, a dissonant, almost experimental musical about a young Jewish boy and his African-American maid, based loosely on Kushner's experiences growing up in Louisiana. "I needed to do something with a broader appeal," she explains of her decision to audition for Shrek The Musical, for which she wrote a score that blends a number of styles, including pop and R&B. "It's a quest story, a hero's journey." Where the songs sung by Shrek rely on folk rock to create a more private, heartfelt sound, the big numbers sung by the smorgasbord of fairy-tale characters who inhabit the land of Far, Far Away are a bit more "over-the-top musical theater," Tesori explains.
The show opens at the Broadway Theatre in mid-December and marks the first endeavor by DreamWorks Theatricals, a division created by the studio to compete with Disney, which has taken over Broadway with such blockbusters as The Lion King and Mary Poppins. Yet the demands Tesori feels have nothing to do with huge budgets—"I'm used to doing musicals for $1.95," she quips—let alone corporate conglomerates. "I don't need anybody else pressuring me," she explains over breakfast near Pike Place Market in downtown Seattle, where Shrek had a six-week out-of-town tryout earlier this fall. "I do that quite well."
Despite Shrek's large-scale sets, costumes and effects, "Jeanine's music always comes out of character and story," says Lindsay-Abaire. "That makes it very easy for a dramatist. She's just such an amazing and generous collaborator."
Though she seems to have chosen right brain over left, Tesori suggests that she's never quite abandoned her interest in science. She jokes that constructing a musical is not much different from what happens on the television medical drama House, except "they have better dry-erase boards.
Sutton Foster (center) as Fiona in Shrek The Musical.
"But it's a giant puzzle," she continues. "That's the part I love. The variables are endless."
Work didn't always come so easily. She spent much of her 20s as an arranger and conductor in musical theater. It was only after she holed up in a lighthouse in Westport, New York, in 1993 at, in her estimation, the relatively late age of 31 that she started writing her first musical. "I was beginning to be one of those coulda-shoulda people, and I was just so uncomfortable with it," Tesori says now. "I took a year and gave myself my own Walden. It was a great lesson in self-reliance, and it changed my life."
The result was Violet, with book and lyrics by Brian Crawley, a chamber musical about a disfigured young woman who travels by bus from North Carolina to Oklahoma to find a cure. When it premiered at Playwrights Horizons in the spring of 1997—the gestation period for a musical is between three and five years—it was awarded several major Off Broadway prizes. Perhaps more significant, it landed her such gigs as the stage musical version of the movie Thoroughly Modern Millie, for which she wrote 11 new songs and which garnered her a second Tony nomination, in 2002. (The first was for a score for Lincoln Center's 1998 production of Twelfth Night, starring Paul Rudd and Helen Hunt.)
"The one thing I regret is I wasted a lot of time talking about writing and not writing," admits Tesori, who has long dark hair, porcelain skin, an aquiline nose and an appealingly forthright personality she attributes to "the Sicilian in me." "You can talk yourself out of anything. I probably wasted seven or eight years of my 20s too afraid to be made a fool of. Now I just think that process of being so tortured when you're not even writing is kind of pathetic."
As she gets older, however, she's begun to learn to "accept the mess" of the creative process. "It's not neat and it's not pretty, but I love it more and more because I realize more and more what I don't know," she explains. (During rehearsals for Caroline, director George C. Wolfe made her scrawl the word "process" in red marker on her score.)
Tonya Pinkins (left) as the title character and Veanne Cox as her employer in Caroline, or Change at the Public Theater.
Kushner, who has become a close friend, welcomes Tesori's rigor. "She's the good kind of tough, a kind of tough that comes from discipline and seriousness of purpose and having very high standards for herself," he explains. "But there's also a tremendous heart and humanity. I adore working with her more than anyone else I've ever worked with." She and Kushner rewrote the climactic number in Caroline 18 times, while she and Lindsay-Abaire have written about 50 songs for Shrek, nearly half of which they've dumped. "We talk a lot," says Lindsay-Abaire. "For days sometimes. And we decide whether music or lyrics should come first. Whoever has the impetus to work first usually does."
As soon as Shrek premieres, Tesori and Kushner will begin penning an original opera for the Metropolitan Opera as one of the few musical theater duos to receive a commission from general manager Peter Gelb. Also in the works are a small musical, more on the scale of Violet and Caroline, with playwright Lisa Kron, as well as a larger, as yet undecided adaptation with Lindsay-Abaire. "I like projects that are very different from the last one—it's how I'm built," says Tesori, who worked closely with Meryl Streep on the new songs she wrote for the Public Theater's 2006 production of Mother Courage and Her Children. "I don't do anything I don't feel I can do, but you do certain works to fund other works."
Post-Seattle and Shrek's Broadway debut, Tesori was most looking forward to spending some quality time in New York with her husband, music director Michael Rafter, whom she met in the orchestra pit of the 1989 revival of Gypsy, and their 11-year-old daughter, Siena, who is equally obsessed with the theater. "She's been backstage," says Tesori, beaming. "She sees how hard it is and that what comes out onstage has no resemblance to what's going on behind it." She imagines that Siena will find her way into the field, though surely she will need to jump some of the hurdles that Tesori has during her two-decade career, which, in some ways, is just getting started.
"There are a million people who will say, 'Why are you doing this?' and there are a million reasons not to do something," Tesori says, referencing any creative endeavor. "But there is probably one good reason to do it, which is that you want to."
Shrek the musical: Dreamworks Theatricals/Joan Marcus; Caroline, or change: Michal Daniel, 2008