French It Girl Jeanne Damas on What Makes Parisian Style So Effortlessly Cool
The model and It girl opens up about her new ready-to-wear line Rouje.
---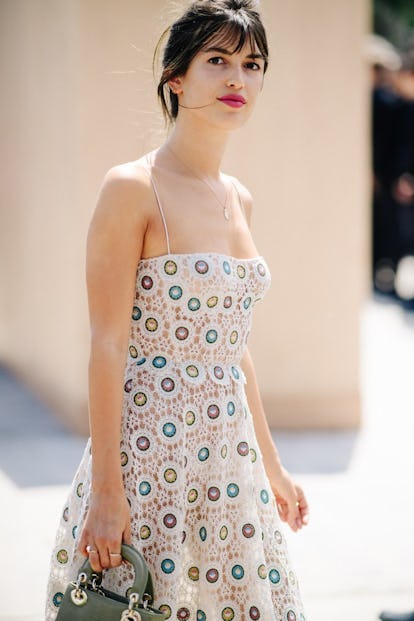 Model Jeanne Damas embodies the effortlessly chic French girl look. In fact, growing up she was always told that she resembled Charlotte Gainsbourg, the actress and daughter of the legendary English actress Jane Birkin and French musician Serge Gainsbourg. Today, she's more often than not compared to Birkin, thanks to her masterfully effortless, understated wardrobe. "I must be a hidden girl of the Gainsbourg family!" she laughs. Now, she's bringing her personal style to the masses with her first fashion label, called Rouje. A reference to Damas' love of red lipstick, Rouje is really a love letter to French girls, combining classic, iconic staples with contemporary, youthful design. It's also the result of a collaboration between French girls, as Damas recruited friends such as the photographer Adeline Mai as collaborators. Here, Damas explains how she became a model, why she launched the label, and what it means, exactly, to dress like a Parisian.
How did you start modeling?
Six years ago, [lingerie designer] Yasmine Eslami she was looking for girls, not mannequins, to shoot her first campaign with Olivier Zahm. Olga, the daughter in law of Yasmine, was a high school girlfriend of mine. She showed [Yasmine] photos of me on Facebook and that's how she choose me. There was also my agent who spotted me at 18 and who signed me to a fashion agency as "talent," since then everything changed.
How did you get the idea to start your own brand?
I wanted to create Rouje to bring together my talented friends–photographers, stylists, graphic designers–in a project to create my universe and perfect dressing. I did not want to call the brand my name, because I have other projects and this brand is the result of the work of several people and not just me. It is enriching and very exciting. I also feel like an adult now that I have responsibilities and that people work for me, and it's cool enough to be adult.
Where do you find inspiration?
I find inspiration on the street a lot. I look at a lot of magazines, magazine online… I collect hundreds of images and I always have an accurate idea of ​​what I want to wear. For this collection the inspiration was "to go to the market." It became a bit of a joke in the office because every time I tried a prototype, even a satin evening dress, I said "it's perfect to go to the market!" The market reminds me of the holidays and the summer and also my mother who always went looking chic in basket sneakers and a dress.
How does living in Paris influence your approach to fashion?
Parisians have this ability to be cool and chic without appearing to have made an effort. It is a question of attitude, of details, and of a character that makes this "something more." I do not know what.
Jeanne Damas. Photo by Adeline Mai.
Jeanne Damas. Photo by Adeline Mai.
Jeanne Damas. Photo by Adeline Mai.
Jeanne Damas. Photo by Adeline Mai.
How it is to be compared to Jane Birkin?
It's funny, because from 12 to 16 years old I was told every day that I looked like Charlotte Gainsbourg, then it was Lou Doillon and now Jane Birkin… I must be a hidden girl of the Gainsbourg family!
Three words that describe your aesthetic:
Simple, effortless, chic.
How does your lifestyle influence your personal style?
I love to dance, bike and walk every day, so I like to be feminine and comfortable at the same time.
What are your favorite things in your wardrobe right now?
Wrap dresses.
When you travel, what's always in your suitcase?
My phone, my camera, a book, and a lipstick.
Beauty secret:
I mix lipsticks and I always apply it with my fingers by tapping for a melted effect.
Last purchase:
A cashmere pink cardigan in a San Francisco sales depot.
Must-have from the Fall 2017 collections:
Accessories from Vanessa Seward.
Something you would never wear:
Birkenstocks!
Most prized possessions in your closet:
Some pieces from Gucci.
Designers you're currently obsessed with:
My friend Jacquemus and his poetic fashion.
What are you thinking about right now?
I look at San Francisco from my terrace and I tell myself that I love this city.
Watch W's Most Popular Videos: