Gen W: Jeanne Greenberg Rohatyn
For gallerist Jeanne Greenberg Rohatyn, the art world has few frontiers.
---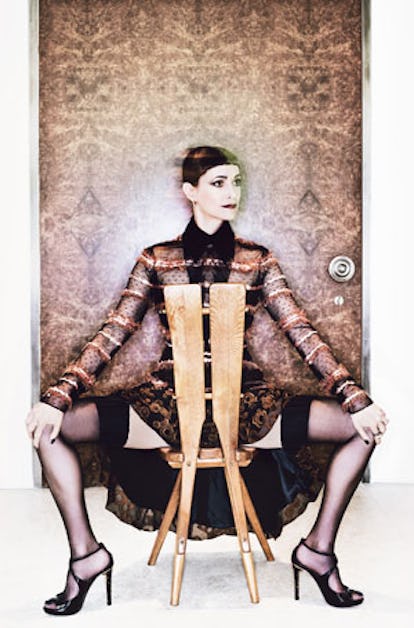 For her first showing at Design miami/Basel in Switzerland this past June, Jeanne Greenberg Rohatyn, 45, the gallerist behind New York's Salon 94, paired furniture by haute-Goth-fashion designer Rick Owens with new ceramic pieces by 82-year-old artist Betty Woodman. On the face of it, as ­Greenberg Rohatyn well knew, the two seemed an unlikely duo: Owens makes radically sleek beds, tables, and chairs from materials such as petrified bark, alabaster, mink, and ox bone. Woodman, an art-world stalwart, is famed for the riotous colors and eccentric forms of her baroque ceramics. "People thought I was crazy to put them together," Greenberg Rohatyn said. "Their aesthetics are at totally different extremes, but I felt they had similarities. For one thing, they're both into ritual and theater." Side by side, their works breached the border between craft, design, and high art. Woodman's fired-clay vessels looked brazenly modern; Owens's elegantly clunky pieces acquired warmth. "As I see it," Greenberg Rohatyn added, "my job is to take unlike things and put them together in new contexts."
Those mashups between the domestic and daring, grand and gritty, overlooked and of-the-moment have helped make Greenberg Rohatyn one of the contemporary art world's most formidable power brokers. She is certainly one of its chicest and most talked about: Appearing as a judge in the debut 2010 season of Bravo's reality series Work of Art: The Next Great Artist, she wore clothes from her wardrobe by Owens, Rodarte, and Stella McCartney. "I went ahead with the show because so many people I asked said, 'Oh you're way too elegant to do something like that'—which is a compliment, but at the same time it made me feel slightly limited," she said. "So I thought, I want to be able to change."
An "art brat," as her friend and fellow producer Yvonne Force Villareal dubbed her, Greenberg Rohatyn grew up in a house filled with contemporary works by the artists that her father, the esteemed dealer Ronald Greenberg, represented and hosted at their Tudor house in St. Louis. Donald Judd came for a stay, driving a jeep he'd outfitted to resemble one of his box artworks; during his 1977 opening, a shy Andy Warhol hid out in the bathroom with the Greenberg kids and drew young Jeanne a banana. ("I didn't realize it had anything to do with the Velvet Underground album cover until I got to college," says Greenberg ­Rohatyn.) As a teen, she accompanied her father on his annual trips to Art Basel and the New York auctions. ("We'd play this game: Which painting would you take home? Which one would you sell?") Her parents gave her a plant drawing by Ellsworth Kelly for her sweet 16 and another as a present when she married financier ­Nicolas Rohatyn in their backyard in 1997. That same year, she stocked the ­United States Embassy in Paris with works by American masters. (Her father-in-law, banker Felix Rohatyn, was then ambassador to France.)
Two years later, at New York's Lawrence Rubin Greenberg Van Doren Fine Art, the blue chip 57th Street gallery where she joined her father and Lawrence ­Rubin as a partner, Greenberg Rohatyn was charged with spicing things up. She did just that with her 1999 breakout show, "Another Girl, Another Planet," one of the most renowned photography exhibitions of that period, which she co-curated with the artist Gregory Crewdson. ("The 'it' show this spring," Artforum wrote at the time.) Blurring boundaries between documentary and fiction, "Another Girl" introduced staged narrative images of adolescent girls and women by up-and-coming, mainly female, photographers, including Katy Grannan and Justine Kurland, both recent students of Crewdson's at Yale. "Big 57th Street galleries rarely do shows of emerging artists, especially those dedicated to young women, so that was important," recalls critic Vince Aletti, who reviewed it for the Village Voice. "But the work itself was thoughtful and smart. What Jeanne established was a level of taste that was really strong and clearly coming from a personal point of view." He points to Grannan—who photographed Greenberg Rohatyn naked when she was pregnant and who takes pictures of her kids every year for the family's holiday card—as the one who now stands out as the most interesting of the pack. "Her last show with Jeanne was really powerful," Aletti says of the "Boulevard" portrait series she showed at Salon 94 in 2011. "It was at the level of Diane Arbus, but in a completely different way."
These days, it's by juggling her roles as gallerist, art adviser, collector, curator, and—not least—wife and mother of three that Greenberg Rohatyn has created her own quirky niche. The double-width Rafael Viñoly–designed townhouse on the Upper East Side, where she has lived since 2002 with her family also serves as her salon and gallery—an arrangement that allows her to work at home, even if it means opening her doors to the public by appointment. Her time-management skills are impressive: All of her artists, she points out, live in or near the city or are a relatively easy flight away (which is why there are no Chinese artists on her roster). Her two additional galleries—Salon 94 Freemans on the Lower East Side and Salon 94 Bowery, next to the New Museum—are just a taxi ride away.
The distinctive spaces allow her to produce unconventional one-off shows, as well as create varied environments for her artists, ­including Grannan, Laurie Simmons, Marilyn Minter, Lorna Simpson, Huma Bhabha, Jules de Balincourt, and young buck Takeshi Murata, whom she snapped up when the dealer Jeffrey Deitch decamped to the Museum of Contemporary Art in Los Angeles. Salon 94 Bowery is presenting Murata's latest digital works and video through October 20, and Balincourt's new paintings will go on view beginning October 25.
"I prefer to come at the art world from as many angles as I can," Greenberg Rohatyn said one day this past April. "Repetition isn't interesting to me." It was two days before she would install David Benjamin Sherry's psychedelic abstractions of American deserts and parks in her downtown outposts and host his family and friends at her home in celebration of the rising photographer's New York debut. But for now she was in her Manhattan home curled up on a distressed-suede-and-plywood sofa by Owens, dressed in a black Owens jumpsuit with sleeves of different lengths. Her hair was cut supershort in the front, with bangs circling her hairline à la Rooney Mara—but left long and curly in the back, with the tips dyed blonde. She wore a necklace made of black rope and no makeup.
As we walked around, she pointed out the works she'd installed from her own collection in her parlor-floor living and dining rooms. Hung in the landing was David Hammons's Untitled (basketball chandelier), a backboard and hoop woven with crystals and glass; nearby, Hella Jongerius's madcap Frog table mingled with Stars at a Glance, Sarah Lucas's cheeky bra-and-platform-shoe sculpture from 2007, and paintings by Julie Mehretu and Mike Kelley. In 2010, Nate Lowman and Hanna Liden asked to present a collaborative project in her home because the two friends wanted their work to be seen in a domestic—not downtown—setting, even though Greenberg Rohatyn doesn't represent them. "She's fearless," Lowman says. "She's got crazy furniture, crazy art, and it's all piled in together."
In fact, it was seeing how Greenberg Rohatyn lived with the art she collected that convinced Marilyn Minter that she wanted to show with her. (And has no doubt helped buyers imagine how art might look in their own homes.) "To this day, the best piece of art I've ever seen is that chandelier by David Hammons. I'd give my right arm for it. And she has a wall in her dining room by Kara Walker and these two Chris Ofilis with the elephant dung. I walked in and thought, Oh, man, this is someone with a real vision." Minter's career had stalled, as had Laurie Simmons's and Lorna Simpson's, when Greenberg Rohatyn began taking a closer look. "I'm interested in that crucial moment when, for whatever reason, the art world has turned its back on certain artists a little bit, and they've gone back into their studios quietly and started to work differently," Greenberg Rohatyn said. "It takes a lot of power to do that; you really have to look in on yourself, and I'm fasci­nated by what comes out of that. Marilyn had stopped using appropriated images and begun creating her own by picking up the camera. Laurie had finished her first film [2006's The Music of Regret, coproduced by Greenberg Rohatyn and starring Meryl Streep], which became a retrospective of all she'd done—and she had to start entirely new. I wouldn't have shown her had she next done a reprisal of her older work." The two had "a combative relationship over the editing of the film," recalls Simmons, because "Jeanne was right in there with creative decisions, something most dealers don't do." But three years later, after Simmons finished a new series of photographs of a life-size sex doll posed as a modern girl lounging about the house, she asked ­Greenberg Rohatyn to become her dealer. "I came to really trust her eye."
As a young curator, following her stint at New York University's Institute of Fine Arts in the early nineties, Greenberg Rohatyn assisted then ­Royal Academy of Arts director Norman Rosenthal with a survey of American art from a European perspective. "I looked at his list and said, 'Where are the women and the black artists?' It was not something that was discussed at the time." To which Rosenthal replied: "Start by finding David Hammons." A famously elusive African-American artist, Hammons has long worked independently of the art world. Greenberg tracked him down in Harlem, first leaving phone messages and then, when she got no response, flowers and notes outside what she thought was his ­studio. "You've been leaving them on the wrong floor," he told her when they finally met. That she talks to ­Hammons on a regular basis and has occasionally sold his work (though she doesn't represent him) has won her the admiration of many artists. "He is above the law in the art world, and he doesn't mess with many people," Lowman says.
She also counts Jay-Z and New York Yankees ­superstar Alex "A-Rod" Rodriguez as art advisory clients. After Rodriguez admired the smiley-face painting by Lowman in Greenberg Rohatyn's living room, she persuaded him to begin collecting artists of his own ­generation. In addition, she immediately got Lowman on the phone and asked if he'd make a new painting for Rodriguez; then she set up Rodriguez's first-ever studio visit. During Art Basel Miami Beach last November, Rodriguez welcomed VIPs into his bayside Miami manse, which was hung with part of the collection Greenberg Rohatyn had helped him build, including pieces by Minter, Warhol, and George Condo. The chief draw, however, was Rodriguez's giant indoor batting cage, where Lowman had installed an exhibition of new works.
Canny about responding to the cultural moment, Greenberg Rohatyn recently took on Jayson Musson­—who as his alter ego Hennessy Youngman stars in the YouTube series "Art Thoughtz." The videos feature Youngman mocking art-world obsessions, from Damien Hirst to relational aesthetics, through the wickedly astute perspective of a hip-hop fan. In April, at the invitation of Minter, Musson curated a show at Family Business, Maurizio Cattelan's new Chelsea gallery, and asked his Internet and Twitter followers to drop off an artwork. The opening turned into a raucous block party. Minter recalls that she, Greenberg Rohatyn, and Cattelan were fascinated to discover an audience none of them had ever seen. "Jeanne didn't think twice about representing him," Minter says. "She jumped."
Musson was at work in the gallery space of Greenberg Rohatyn's townhouse when I stopped by this past summer. Inspired by the colorful Coogi sweaters worn by the likes of Bill Cosby and the rapper Notorious B.I.G., he was shredding fabric into piles, then stitching and framing the pieces to create what looked like abstract paintings for a show at Salon 94 Bowery. "It's my first 2-D work," he said. To Greenberg Rohatyn, it was another "crucial moment." This go-round, Musson was dispensing with words and Hennessy's comedy, presenting only visual artworks. To prepare, he was living in her guest room for the month because his Brooklyn studio was too cramped. One night, he told me, he was watching The Office in his room when Greenberg Rohatyn knocked on the door and ushered inside her good friend, the hip-hop mogul Lyor Cohen. "That was probably the most insane thing about living here—the night she brought Lyor Cohen into my room, and I showed him my videos. We watched the one on Damien Hirst, and he laughed his ass off. I was like, Whoa! I am not prepared for this at all!"
Greenberg Rohatyn, who was leaving the day ­after my visit for a family holiday in Aspen and expecting guests for dinner, was already dressed in black ­Céline pants, a navy T-shirt, and strappy Yves Saint Laurent heels. As her kids ran in and out excitedly, she juggled conversations with them, me, and the artist in residence—her life and work one seamless, if unrelenting, whole. "Nothing is accidental," she said of her approach to introducing new artists, though she might just as easily have been speaking about herself. "There's a lot of time spent editing and thinking about ways of presenting the work. But at a certain point, you just have to stop worrying, put it up, and see how it goes. Because that's when great things happen."
Gen W: The Artist is Present
Greenberg Rohatyn at home in New York, August 2012, perched on a 1953 chair by Carlo mollino. Rodarte sequin and tulle embroidered dress with wool collar. Falke stockings; Tom Ford sandals.

Photographer: Tom Munro Stylist: Patrick Mackie
With artist Takeshi Murata in her home office, 2012.

Murata wears Tom Ford wool tuxedo, cotton shirt, and tie. Greenberg Rohatyn wears Tom Ford leather trench coat. Sharon Alouf 22k gold and diamond earrings. Prabal Gurung for Nicholas Kirkwood heels.

Photographer: Tom Munro Stylist: Patrick Mackie
Greenberg Rohatyn in her living room, New York, August 2012. Behind her are Nate Lowman's painting Lonely Hearts Club, 2010; a pair of red leather chairs by Martino Gamper, 2008; and on the pedestal, Sarah Lucas's Nud, 2009.

Michael Kors chantilly lace dress. Tom Ford sandals. Sidney Garber 18k gold, black diamond bead, and moonstone necklace.

Hair by Dennis Gots at Jed Root; makeup by Keiko Hiramoto for Dior Skin at Streeters; manicure by Maki Sakamoto for Dior Vernis at Kate Ryan Inc. Photography assistants: Xavier Muniz, Yvonne Allaway, Jun Ho Yang. Digital technician: James Needham. Fashion assistants: David Thompson, Kyla Weinman.

Photographer: Tom Munro Stylist: Patrick Mackie
Hair by Dennis Gots at Jed Root; makeup by Keiko Hiramoto for Dior Skin at Streeters; manicure by Maki Sakamoto for Dior Vernis at Kate Ryan Inc. Photography assistants: Xavier Muniz, Yvonne Allaway, Jun Ho Yang. Digital technician: James Needham. Fashion assistants: David Thompson, Kyla Weinman.