Long Live Jeanne Lanvin
Alber Elbaz remembers the designer with a new exhibition.
---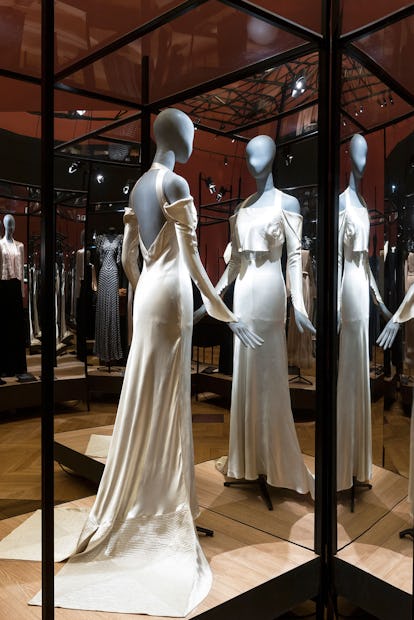 The morning after his triumphant Moroccan-inspired Fall 2015 Lanvin show, Alber Elbaz was wandering around the Jeanne Lanvin exhibition at Paris's Palais Galliera. "Usually the day after my shows all I want to do is stay in bed with a good book, but today is different," he said. "Just looking at this makes me happy." Although he has been the creative director at Lanvin for 15 years (Elbaz joined the house in 2001), none of his designs appear in the Lanvin retrospective—a choice made by Elbaz and the Galliera's director Olivier Saillard. Although he did work on the show. Together, Elbaz and Saillard developed a rare, non-chronological exhibition that explores the French house's 125-year history through its founder's personal passions and possessions—from the mother and child logo (featuring Jeanne's daughter Marguerite, and designed by Paul Iribe in 1924) to the rich ethnic fabrics she brought back from her travels to China, Turkey and Japan as inspiration.
Combining the Galliera's exceptional collection of Lanvin pieces (the fashion museum has long been where old French families have sent their well-preserved couture pieces to rest) and the historic French fashion house's own extensive archives, the show offers a glimpse into the closets of the "mondaines" who favored Jeanne Lanvin's clothes. Take the lamé dress with a blue silk train quilted in the Japanese obi belt technique worn by Alice Alleaume in the '30s, or the "Fusée" feather print and ribbon feather embroidered dress that was worn by Odette Alfano the summer of 1939, or a silk and wool patchwork coat, once worn by Countress Greffulhe, the real life inspiration for Marcel Proust's Duchesse de Guermantes in Remembrance of Things Past. The show celebrates the complexity of these exquisite pieces—next to each dress are fabric swatches, and explanations of the techniques that Lanvin invented—which continue to inspire Elbaz today.
Photos: Long Live Jeanne Lanvin
Jeanne Lanvin. © Laure Albin Guillot / Roger-Viollet
Inside the exhibition. © Pierre Antoine
Lesbos drawing, 1925. © Patrimoine Lanvin
Lesbos dress, 1925. © Katerina Jebb, 2014
Inside the exhibition. © Pierre Antoine
La Diva dress drawing, Fall/Winter 1935-1936. © Patrimoine Lanvin
La Diva silk dress, Fall/Winter 1935-1936. © Katerina Jebb, 2014
Inside the exhibition. © Pierre Antoine
Inside the exhibition. © Pierre Antoine
Inside the exhibition. © Pierre Antoine
Scintillante drawing, 1939. © Patrimoine Lanvin
Scintillante dress, 1939. © Katerina Jebb, 2014
Inside the exhibition. © Pierre Antoine
Inside the exhibition. © Pierre Antoine
Les petites filles modèles drawing, 1935. © Patrimoine Lanvin
Les petites filles modèles, 1925. © Katerina Jebb, 2014
Inside the exhibition. © Pierre Antoine
Inside the exhibition. © Pierre Antoine
Inside the exhibition. © Pierre Antoine