Jeff Bridges Reenacts Shirley MacLaine's Iconic "Terms of Endearment" Performance, 33 Years Later
On its 33rd anniversary and on the tail end of an off-Broadway run, Terms of Endearment is having quite the moment. Here, actor Jeff Bridges is here for it.
---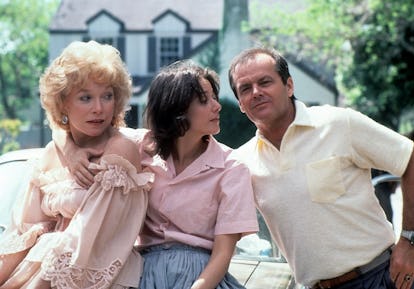 Getty Images
In her acceptance speech for her Best Actress Oscar in 1984, actress Shirley MacLaine said, "I have wondered for 26 years what this would feel like. Thank you so much for terminating the suspense." The actress was up against actresses Meryl Streep, Julie Walters, Debra Winger, and Jane Alexander, but MacLaine emerged victorious for her performance as Aurora Greenway in 1983's Terms of Endearment. (Winger was nominated in the same category for her role as daughter Emma Greenway in the film.) The film is based on the 1975 Larry McMurty novel by the same name, adapted by director James L. Brooks — and in addition to MacLaine's Best Actress win, it went on to sweep the 1984 Oscars, taking home five awards among its 11 nominations.
"If Terms of Endearment had happened to me five years ago," MacLaine added, "I think I would have called it a thrilling commercial, artistic accident. But I don't believe that any more. I don't believe there's any such thing as accidents. I think we all manifest what we want, and what we need." (This MacLaine, by the way, is nothing like the character she plays in the film: the narcissistic mother, mourning widow, reluctant grandmother.) Aurora was a career-defining performance for MacLaine, who broke out in 1960's The Apartment and earned five Academy Award nominations before she finally won for Terms of Endearment.
All of this is to say, MacLaine's turn as Aurora Greenway is a tough act to follow. Yet, this year, on no particular anniversary (the film turned 33 this year, not usually such a cause for celebration), the film has been restaged by off-Broadway theater company 59E59, with young actress (and Joan Didion's niece) Hannah Dunne playing Emma and, in a curious twist, Molly Ringwald, an '80s icon herself, in the role MacLaine originated. (Ringwald was a teenager on the cusp of stardom when Terms of Endearment debuted — she'd appear in Sixteen Candles the following year, the film that would mint her as a John Hughes star and the product of the same sentimental Hollywood that produced Terms of Endearment.)
Terms of Endearment ends its run Dec. 12, but on the occasion of its revival, yet another old-school film icon, Jeff Bridges, has taken a stab at the part of Aurora. Bridges was nominated for his first Oscar back in 1972, but his most pivotal roles have been dispersed throughout his career: 1998's The Big Lebowski; 2009's Crazy Heart; 2010's True Grit. This year, he's back with Hell or High Water, the critically acclaimed sleeper hit of the summer, a crime-western also starring Chris Pine and Ben Foster; next year, he'll appear in the Kingsman sequel and Granite Mountain, a fictionalized account of the Yarnell Hill fire.
Bridges's audition reel for Aurora Greenway has all the heft of any of his recent roles. Terms of Endearment takes a crushing twist in its last quarter (spoilers ahead, if spoilers can be said to count more than three decades later): Emma Greenway is diagnosed with terminal cancer, and the stress of her hospitalization both deepens rifts between generations and brings mother and daughter closer. In one poignant scene, Aurora demands a dose of morphine for her daughter — the iconic "Give My Daughter the Shot!" moment — growing more agitated and desperate as the nurses equivocate. And Bridges, armed with little more than a script and a modest audience, reenacts the scene with a performance that would make Shirley MacLaine proud.